Steele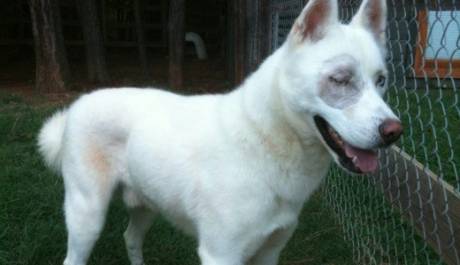 DOUGLASVILLE, GA......Steele is a beautiful 4 year old pure breed HUSKY that was picked up as a stray and brought to the shelter in Douglasville. He has a Secondary Glaucoma that we have determined was caused by some sort of blunt force trauma. He is very sore and sensitive on the right side of his body. When you try and pick him up he lets out a yelp. He wasn't hit by a car because his injuries are not indicative of that. The best we can determine based on the tests we have done is that he was either kicked really hard or he was hit with an object. What ever happened to him, he is going to lose the site in that eye.
We had been following his case knowing he was going to be PTS if no one stepped up for him. We felt certain someone would. We were shocked when we discovered he was still at the shelter and hadn't had any treatment for his eye. He was going to be put on the put to sleep list so we grabbed him. An eye injury like this builds up pressure and causes terrible pain and suffering. It is sometimes similar to a really bad migraine. We had Steele picked up the same day we contacted the shelter and boy am I glad we did. His eye ruptured on the way to Columbia, SC. Since it was after hours, he had to go to the Emergency Veterinary Clinic and have emergency surgery and medical care to remove the eye. Before the surgery could be done, we had to do lots of tests and x-rays to rule out any internal injuries and to make sure he had not been hit by a car. We also had to determine his heartworm status to make sure he could survive anesthesia. His HW test came back positive but his chest x-ray showed he could have the surgery. By 3:30 AM, Steele was finally able to have his much needed surgery. The eye was saved and sent to a lab to rule out cancer or any other medical reason for the Glaucoma. It came by as Secondary Glaucoma from trauma. Steele is doing great and is feeling so much better since the eye has been removed. He loves other dogs and loves to play. We are having to keep him quiet while his eye area heals. He will make a wonderful family dog to the right person. He will need to be able to get out and run and would be a great companion for a runner.
We changed his name from Errol to Steele since he reminded us of steel.
This beautiful boy is finally on the mend. His next hurdle is doing his heartworm treatment and then he can be placed with a wonderful family. If you think you are that family, please, fill out our Adoption Application.
Learn about our other amazing animals