Stretch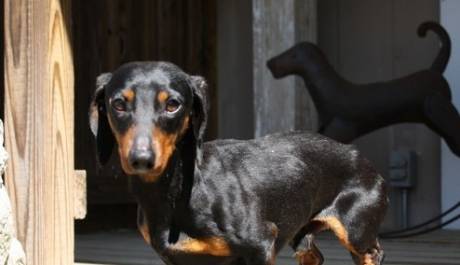 FORT MILL, SC.....Adorable sweet 2 two year old Dachshund was picked up as a stray by a good samaritan that found him on the side of the road. It appeared he had been hit by a car. She took him to a vet in Fort Mill, SC. She could not afford his estimated vet bills so she left him with the vets there. Animal Control from Chester, SC was contacted about our sweet STRETCH. The hospital wanted to euthanize him but the shelter asked them to wait until Monday so they could get in touch with me. I said I would take him. This adorable dog had been hit by a car, had a crushed leg and was in in terrible pain. They had the dog for almost a week. We assumed he was getting medical care while he was at this facility. When sweet STRETCH arrived to the surgical facility we use in Columbia, SC, they were shocked to see the shape this poor dog was in. He had not been given pain meds for quite some time and he was totally dehydrated. He was so dehydrated that when they pulled his skin up to see how bad he was, it stayed up. If he had stayed at that vet for two more days, I don't think he would have made it. When the surgeon called me Monday night, she could not believe another vet would have allowed an animal to suffer this way. I contacted the hospital where he was to find out what had happened and why he wasn't treated properly. If you are not going to take care of the animal, then humanely put him down. Don't allow him to suffer. The nurse told me when I called that she could not discuss it because it was a conflict of interest but the doctor would call me back. The doctor did call me back and it was as I suspected. His words were that the dog came in without anyone to pay his bills. They put a catheter in the dog but he pulled it out and he was not going to put another one back in. The dog was left this way all week-end and God knows how many more days with this terrible care. When I told him I was shocked, as were the surgeons his comment was that I guess we don't have to worry about seeing any of our dogs anymore and he hung up. He couldn't believe I was that upset about this dog. Stretch is lucky to be here today based on the way he came in and not because of a car accident. He has a right comminuted distal femur fracture, right comminuted mid-diaphyseal tibia fracture and left ischial fracture. We did surgery on Tuesday after we got him stable and comfortable. He is still at the surgical facility recovering.
I apologize for going on about this Veterinary Office but I would not ever want any of my animals to be treated that way, nor would I ever support a practice that did not care about the well-being of every animal that came in, even if it meant humanely euthanizing the animal. Drop me a note if you would like more information.
Thanks for helping us with sweet STRETCH. He has had his surgery and is doing great. We have to put some weight back on him and get his blood stable but that is just a matter of time and food. His fluid level has stabilized and he is out of danger. This poor boy was in pain for so long that any pain he has now from his surgery doesn't even faze him. He wants to get up and play and move around which is good for him right now. He can't do any running but what he wants to do is perfect for his rehab. He loves being outside with the beautiful weather we have been having. Stretch will be ready to go to his forever home in two weeks. Please, get your applications in ASAP so we can determine the best possible home for him. He is a sweet, sweet dog that loves everyone. Thanks for caring.
I wanted to let you know that we have filed a formal complaint against the vet that did not provide proper medical care to STRETCH to the Veterinary Board that governs all of the vets in the state he is located in.
Stretch needs to go to a home that does not have CATS.
He is little too interested in chasing them.
Learn about our other amazing animals