Susie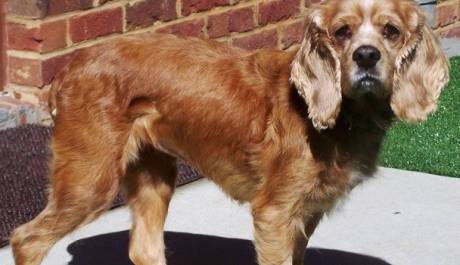 LAURENS, SC......Sweet Susie was picked up as a stray in Laurens, SC in horrific condition. She is an older girl that we believe is around 8 years old. We were contacted about two cockers that were going to be PTS in Laurens that were both in terrible shape. We agreed to take the worst one and that was Susie. The vet believes she is 8 years old but she looks much older. Susie has so many things medically wrong with her that we waited six weeks to get her on the mend before posting for her. We were really not sure if she was going to make it. We are now feeling better about her prognosis. Susie came in all matted up with horrible ear and eye infections. After she was thoroughly evaluated, her bloodwork came back that she was very anemic, loaded with parasites, was Heartworm positive and had mammary gland tumors. She was a mess and felt like one. The first thing we had to work on was to get her ear infection under control. I am happy to say, that part of her care is now coming along nicely. After changing her meds, we have come up with something that works. Her eye infection is from her having dry eyes and cherry-eye. Her eyes have improved a lot but they have to get better before we can do the surgery she will require to tack the cherry-eyes back in. After about 4 weeks, she was finally stable enough for us to remove her mammary gland tumors. The best news of all is that they were not malignant. The surgery set her back a little bit but she has finally regained the strength she had lost. Susie is now strong enough for us to do her long-term heartworm treatments. Because she is high heartworm positive, we have to be very cautious with her protocol. We have done her first injection and she did great. We will do another one in the next month and the final one a month after that. Because of her age and medical condition we have had to take every precaution to make sure each treatment is safe for her. Susie cannot have surgery to fix her eyes until she has completed her heartworm treatment. We are different than a lot of other rescues. We start taking care of the animals before the first penny is raised. If we think an animal is not going to make it, we supply all the medical care the animal needs and will only post after we feel the animal will survive. No animal is ever brought to us and not given the best possible care from the minute we get them. Susie is a very special girl that has had a terrible life and has decided that she wants to live. She has gone through a lot and has fought to survive. She is now coming out of her cautious shell and loves everyone. Susie is still in the hospital while she is completing her treatments. She will go into a foster home once the vets say she is clear from her first Heartworm treatment. Susie will make a wonderful member of the Family for anyone that is already familiar with cockers. Cockers are a special breed that require attention to their ears all the time. They are loving, loyal, companions that love being part of a Family. We love this beautiful girl and are so glad she is finally well enough for us to share her with all of you.
Sweet Susie is doing so much better. She is putting some weight on and is becoming a little more active and animated. She is doing great since her first heartworm treatment. Susie's ear infection has almost completely cleared up. She is being treated for that all the time so we do not have any more issues that get out of control with the typical Cocker ears. Her eyes are being treated every day to prevent the dry eye from getting worse until we can do her eye surgery. Until the surgery is done, they will only show slight improvements. Susie is looking much younger than she was when we first got her. She looked like she was about 12 when she first arrived but we now think she really is around eight years old. You never know when dogs are in this kind of their exact age. All we can do is look at their teeth and make our best guess. Right now she is looking a lot younger. We are still looking for that perfect home for our sweet girl. She can be adopted out before her final treatments are done. We will still finish all of her treatments if she has been placed with a wonderful family. She has her final heartworm treatments and her eye surgery which is done with a Vet. Ophthalmologist. Until we find the best possible home for her, she will be pampered and loved by us all day long. Life is good for this sweet girl.
Beautiful SUSIE is scheduled to have her cherry-eye surgery in one week. She has put all her weight on and is doing wonderful. She is a happy elderly Lady that is finally enjoying life.
Learn about our other amazing animals