Sweeetie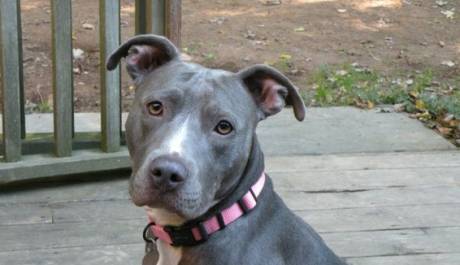 SWEETIE is a two year old pit mix that was picked up in front of a convenience store in Newberry, SC with half her leg missing. She appears to have been used as a bait dog based on all the scars she has all over the back half of her body. Her wound appears to have been caused by something being tied around her leg. We think she might have chewed her leg off to free herself. We will never know what has happened to this wonderful gentle dog but based on how she looks, she has had a very bad life. We will have to amputate the balance of the leg that is left. She is high heartworm positive and has loads of parasites. She will be treated and brought up to date on all of her shots. She is a sweetheart that just loves being loved on.
Sweetie has had her leg amputated and is doing great. We are starting her HW treatment this week. She will be with us for the next two months completing her treatment and then can be placed. She is a sweet, sweet dog that will make a wonderful member of the family for some lucky person.
Sweetie is undergoing her HW treatment and will soon be ready for that special home. She is the best dog. We just love her to death.
Sweetie is just about done with her HW treatments and has responded well to all of the shots. She is a beautiful tiny blue pit. We are observing her all this week with other dogs to make sure she will be fine with them. Her kennel is right next to other dogs and she has been fine with them but we like to make sure she will be fine when she has lots of time to play with them. She has fully recovered from her leg amputation and is getting around great.
Sweetie has been adopted into a wonderful home. We are so excited for this incredible dog. She will be living in New Jersey with several other rescues that have been adopted into the family.
Learn about our other amazing animals