Sweet Daisy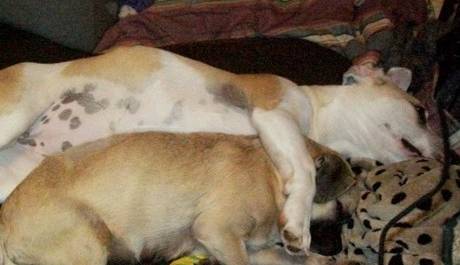 This sweet adorable 3 year old pug mix was found in a ditch in Marshall, TX. She was unable to walk and was brought to the kill shelter there. We were contacted because she was going to be euthanized if no one stepped up for her. They believed she had a broken back from a car accident. We had her transferred to Columbia, SC and was taken immediately to the surgical center we use there. When she arrived, her back legs were taped together so she could drag them. After lots of expensive tests and evaluations, we have decided that she was not hit by a car but is a product of a puppy mill. The reason why she didn't have any sores from dragging herself around is because we believe she has spent most of her life in a small cage having puppies. It has caused her spine to become deformed and she has lost the ability to walk on her back legs. We are having LOTS of extensive rehab done on her to build up her leg muscles and it appears to be working. She is beginning to use her back legs. We still have a long way to go but we have already come so far with this adorable, sweet little girl. Just looking at her will bring tears to your eyes and the fact that someone just tossed her in a ditch when she was of no use to them makes it even worse. With your help, we feel like we are on the right track to get her walking again where she can run around just like other little ones her age.
December 10, 2009
Sweet Daisy is doing wonderful. She is beginning to use her legs and has found a best buddy to hang out with. She is having lots and lots of physical therapy and it is paying off. We are really amazed at how well she is getting around. Here is a picture of her with her new buddy. Daisy is the one being cuddled by Lexus.
December 13, 2009
Daisy is using her legs more and more each day. She really is a doll baby. The thought of her being locked up 24 hours a day in a puppy mill is such a trragedy for her and for all the other helpless animals that have a horrible quality of life.
December 10, 2010
Daisy is walking more and more on her legs. When she gets tired and wants to scoot around, she is picked up and made to walk. She and Lexus are so bonded that we will only place them together. If you are interested in this wonderful pair, please, let us know.
Learn about our other amazing animals