Sweet Duke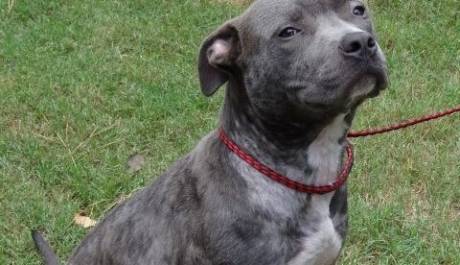 Greenville, SC.......Sweet DUKE was picked up as a stray by Animal Control and taken to the Greenville Shelter. He is covered with bites all over his face, chest and legs. Based on the way he looks, it appears he was used as a Bait Dog for training dogs to fight. it isn't so much all of the new bite marks that leads us to believe he was used as bait as much as it is the old bite marks he has on his body. Duke is very submissive and gets along great with other dogs and also cats. Submissive gentle dogs are the ones used for Bait. Our wonderful boy is a little shy right now for good reason but has warmed up a lot since we got him. He loves to talk with his paws. He will be with us for a while healing from all the bites and to get rid of the infection he has. Drains will be put in to allow as much of the infection to drain out as possible. It looks like Duke must have rolled over in a submissive position because the bulk of the bites are on the underside of his head and body. We are waiting for all of his bloodwork to come back to determine what other medical issues he has other than the obvious. Duke is such a loving dog that we feel like he must have belonged to someone and was either stolen or got out. He did not have any identification of any kind when he was picked up. Once he is well, he will be thoroughly evaluated by our trainer and any issues that come up will be worked on. Right now, he is a sweetheart and we feel is going to make a wonderful member of the family for someone special.
DUKE is the perfect Pitbull. He loves dogs, cats, kids and people. He loves everyone. He can't be with small little children because we are fearful he would knock them over with his winning SPIRIT. He is full of charm and love and does not seem to have a care in the world. We have changed his medication for the Demodex and we seem to be getting better results. When an animal is on one medicine for a long period of time, unfortunately it stops working effectively. That is what happened to sweet Duke. He is getting lots of basic training while he is getting over his skin issues so he will be ready when the right Family comes along for him. He will make the best family dog. He is always full of love and kisses for anyone that spends time with him.
DUKE is doing wonderful and finally ready for his new home. His skin is almost completely healed and will be on the Demodex treatment for another three weeks. He is so tiny and sweet. You can't tell from the pictures how small he is. He is the perfect size dog. Not too big and not too small. We love his great personality and beautiful blue color. We have had Duke for three months now getting him over all of his skin issues. It seemed like he would be doing great and then we would turn around and the Demodex was active again. We had to change his medicine several times to stay on top of his skin problems and to keep him healthy. It has finally worked. You never know what an animal with severe Demodex is going to look like when they are well. We know they are going to be beautiful. We love seeing how these wonderful dogs finally blossom into their true self once their fur grows back. Duke will be going to his new Family this coming week. He is such a sweet dog and has been from the very beginning. We will all miss his wonderful loving spirit.
Learn about our other amazing animals