Sydney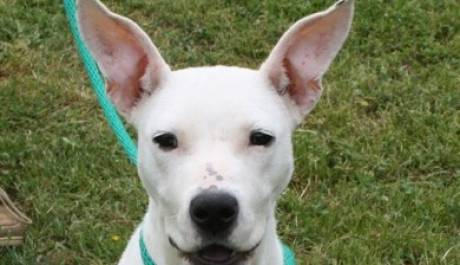 GREENWOOD, SC......Sydney is an adorable 9 month old pit mix that only weighs 19 lbs. Police were chasing a suspect in the Greenwood, SC area when he ran into a house. They ran into the same house and what they found behind a closed door was sweet, adorable SYDNEY. She was almost starved to death. She had no food or water. The conditions in the room were despicable. The floor was covered with feces and urine. This gentle little dog had been living in these conditions for quite some time. If the police had not happened to have been going after this individual, we would be telling you a different story. They immediately stopped their search to get Sydney out of her horrible situation and to the shelter in the area. She has been there while the criminal investigation has ben going on. The person was convicted of animal cruelty along with other charges and is in jail and should be there for a while. This adorable little dog has only gained two pounds since she was rescued. She is terribly underweight and will need lots of medical care to get her system back to normal. We are having to run extensive tests to make sure she does not have any other medical issues we might be missing. She has had an upper respiratory infection for some time that has her terribly sick right now. That is causing her to not eat very much because she feels so bad.
Abandoning animals without any means of taking care of themselves is becoming an epidemic in this country. Every day we see another case of animal cruelty where the animal was starved to death. Sydney was lucky. If you or anyone you know is having difficulty feeding an animal or taking care of them properly, please contact the shelter in your area and ask for help. Do not leave an animal to die a terrible death this way.
Sweet adorable Sydney is putting weight on and her bloodwork has stabilized. She still has a bad sinus infection and has been on the antibiotics. We will be sedating her tomorrow and going into her sinus cavity to see if we can find what is causing her to still be so sick. She is such a sweetheart. We hate she is still having problems.
Sydney is out of the hospital and ready to be adopted.
Look how adorable this sweet girl is. She has Easter Bunny ears.
Learn about our other amazing animals