Tank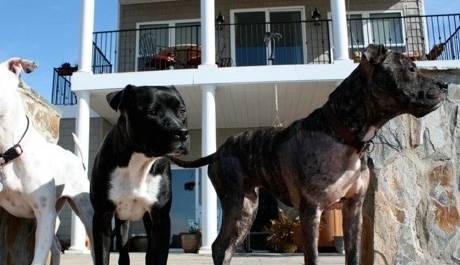 This incredible 3 year old pit bull was picked up by a good samaritan on the side of the road. We were called and he was taken to the Emergency Hospital in Columbia, SC. He is as sweet as can be and based on his wounds and injuries has been used as a bait dog over the last week. He is covered with bite marks all over his body and has a huge gash where his flesh has been torn away from his shoulder. His ankle on his back leg is swollen and he can't use it because there is so much ligament and tendon damage from bite marks. Based on the infection he has in his wounds it appears he has been on the side of the road for several days. As if all of that isn't enough, he is emaciated and anemic. He is being treated at the hospital and will be transferred to the surgical center tomorrow, once he is stable.
December 10, 2009
Tank is doing wonderful. He had surgery yesterday to clean up all of his wounds and to sew up the larges gash that he has on his front leg. At the time they did the surgery they removed several dog teeth that were embedded in his leg from the attack. It appears he was attacked by several dogs. His spirits are great and he wags his tail every chance he gets. He is still at the surgical center and will be there for several more days until the edema in his legs has started to go down.
December 13, 2009
Our sweet boy had to go back into surgery to put drains in the main gash and to put drains in several other places on his leg where teeth had to be removed. His edema is beginning to go down and we are hopeful he will be able to go to his foster Mom this week. He has gained 12 pounds since we first picked him up. It is just going to take a while to get this sweet boy on the other side of this.
December 14, 2009
This wonderful dog is hanging in there. He has really had a rough time of it. As you can see from the picture below, he has several drains in place that have to be changed often during the day. This should slow down over the next couple of days but they cannot be removed until they are no longer needed. He is still as sweet as ever and wags his tail all the time.
January 2, 2010
This wonderful dog gets along with everyone and everything...dogs...cats people..kids. he is a big love. He has put all of his weight back on and is a handful. it is very apparent he never had anyone that trained him but he does now and is loved dearly by his foster family. This is Tank and Josua playing together.
January, 10, 2010
Tank has had a little bit of lameness on one of his legs and is on anti-inflammatory medicine to get the swelling down. He is doing wonderful otherwise and loves playing with his new buddy Joshua.
January 14, 2010
Tank playing with his buddies. That is Joshua in the middle.
February 07, 2010
Tank is in his new home and just loving life with all of his new buddies.
Learn about our other amazing animals