Tyson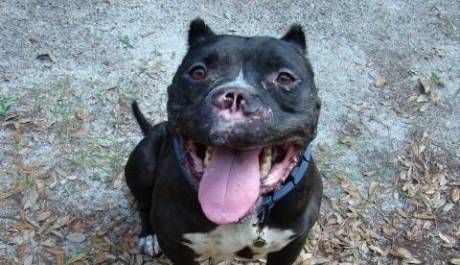 COLUMBIA, SC.....Tyson is a 6 year old Staffordshire Terrier / Pitbull Mix that was picked up as a stray in Los Angeles, California. He was taken to a shelter where pitbulls are put down almost every day of the week. A pitbull with injuries doesn't stand a chance in a shelter where healthy animals are put down all the time. We were contacted by several people in the area that know of the reconstructive surgery we have done on several of our bait dogs. We were asked to please, step up and save him and get him the care he would need to have as normal a life as possible. Since we were bringing Pearl in on a transport, we agreed to take Tyson also. It appears sweet Tyson had been used as bait based on the old scars on him and the large chunk that had been torn off his upper lip and part of his nose. His injuries go inside his sinus cavity which is why he has a terrible sinus infection. Sweet Tyson had a terrible upper respiratory infection that went into his lungs. He has been treated for Bacterial Pneumonia and we had to do a sinus wash to clear up as much infection as possible before we put him on antibiotics so he could breath better. His lungs are almost clear but now comes the hard part. He is scheduled to have several operations to reconstruct in mouth and sinus area. The first surgery is scheduled for this coming Wednesday. Tyson is a wonderful dog that loves everyone. Right now he seems to be fine around other dogs but as he begins to heal that could change. He will go to a training facility if he shows any signs of aggression toward other dogs. Look at those big beautiful, soulful eyes. All he wants is for someone to be nice to him and let him love on them. He looks small here but he isn't. He was thin when he arrived and has gained 7 lbs. He weighs close to 60 lbs. now and could still gain more weight. He is a stocky, handsome sweet boy.
TYSON has had two surgeries and is doing great.
He is the sweetest boy and loves everyone
We have completed all of Tyson's surgery and he is doing incredible. He is a beautiful majestic boy. We are now looking for that perfect home for him.
Tyson with his new best friend. He is with a trainer being re-socialized with other dogs. He loves people and ADORES children.
Our dear sweet boy is slowly getting along with certain dogs. Look how happy he and Smuckers are after playing all day.
Tyson is in our Rehab Program in a home where he will live until we find him the perfect Family. We have had him for years and he is doing wonderful. Every animal deserves their own Family and that is what we want for this incredible dog. He will not be placed until the right Family for Tyson comes along. Until then, he is happy and loving life.
Learn about our other amazing animals