WAYLON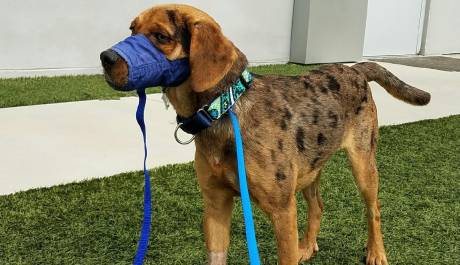 Adorable Waylon is doing wonderful since his surgery. He can eat soft food without any difficulty and has no discomfort. I think he has been suffering for so long that having his jaw finally repaired and not moving freely is a big relief for him. Waylon is with a Foster in Gainesville, Florida that works at the University of Florida Vet Hospital. He has to be close to the facility where he had his procedure to make sure his mouth and jaw are being closely monitored and cleaned properly.
Keeping Waylon's surgical sites clean and free of food is a full-time job. If food remains in the mouth, his wounds will get infected and then his wounds will not heal. His mouth has to be rinsed with a special solution and his teeth have to be brushed several times a day. So far, his mouth is impeccable, and his healing is right on schedule.
Sweet does not even begin to describe how loving Waylon is. He is a typical fun-loving Hound Mix that loves everyone and has never met an animal he does not think is his new best friend. In three more weeks, we are hopeful he can have the splint removed so he can be a normal dog and chew on anything his heart desires.
Thanks for caring and making his Journey to Survive and Thrive, possible. We greatly appreciate your Love and Support for our dear pups.
Learn about our other amazing animals