WHISKEY (Tiny Shepherd Mix)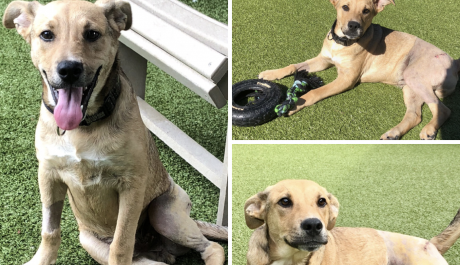 Precious Whiskey has given us plenty of reason to want to drink some liquid sustenance. His other injuries have made him not want to get up at all for the first two weeks. All he wanted to do was lay where he was and wag his tail non-stop. We didn't have to worry about restricting his exercise because he was doing that for us. We like for our animals to show some desire to want to get up and go but sweet Whiskey was not having any part of it.
The good news is he is finally feeling better and wants to go on short little walks. He still has a limp but at least has started using the leg he had the FHO (Femoral Head Ostectomy) procedure on. We know he has a broken pelvis and that is part of the problem. Walking causing him significant pain in that area. He is on pain meds but not enough to make him forget he has injuries. He is on just enough to dull the pain and slow him down.
Whiskey has his follow-up appointment with his surgeon Dr. Jennifer Au this coming week to determine if he will need more surgery or if his fractures have healed and calcified properly while on restricted exercise. He will either be coming back to us for more Rehab at the Center or will remain in the hospital for more surgery. We are hopeful, his surgery days are behind him, and he just needs more time to heal.
This beautiful pup looks like a small German Shepherd that is a perfect Angel. We are starting to take applications for him so DO NOT wait until he has completely healed or you will miss out. We have seen no issues with Whiskey interacting with other dogs. We can't let him play with them right now, but he would have no problems. Whiskey would also do great in a home with kids. He is loving and sweet and wants nothing more than to give kisses and be by your side.
Whiskey is fabulous in every way. We wish we had ten more dogs just like him. Thanks for caring and giving him the Gift of Life. Your love and support are greatly appreciated.
Learn about our other amazing animals