Yoshi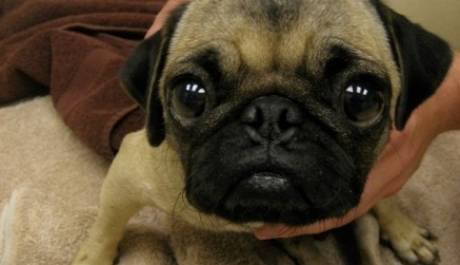 YOSHI is an adorable 3 year old female PUG. She was brought to Charleston Animal Society in Charleston, SC to be euthanized by her owner. We were told that she suddenly quit walking. As you can see she is as sweet as can be and her rear limb paralysis is not holding her back. We agreed to take her and get her medically evaluated to see if she could be fixed or if she would need a cart. We soon found out that she had feeling in her back legs and was in pain. All of these signs were wonderful news for us because it meant there was a 50/50 chance she could get well. If she did not have any feeling then we would have immediately had a cart made for her. She has been to a neurologist, been evaluated and had an MRI done. She has a deformed spine. We do not know if something happened to her or if this is how she was born. Based on the fact she was fine prior to this, we are assuming something has happened over the last six months that has progressively gotten worse and she is now paralyzed. She has full function of her kidneys and her bowels which is also wonderful news. We have her on prednisone to reduce the swelling in her spine and we are hopeful we can do surgery in a week to relieve the pressure from the deformed disks. This little 10 lb. dog is so full of life that there is just no way, we could have let them put her down. We are very hopeful that with the right treatment and the right surgeon, we can get her the use of her rear legs. We are atleast going to do everything we can to try and make that happen. If the surgery is not successful, then we will do what we can to relieve her pain and have a cart made for her. One thing is for sure, we are not going to turn our back on her.
Yoshi is starting to use her back left legs to walk a little bit with. When we got her she could not walk at all. This is a big improvement and she has come a long way. She can still use the bathroom which is a miracle. She is one of the sweetest little dogs. She just loves being the center of attention and we are making sure she gets to be.
Yoshi is improving and has stated to use her back legs some. That is a big improvement. We have transferred Yoshi to the Southeast Pug Rescue and Adoption (SEPRA). They are a wonderful organization that will continue YOSHI'S rehabilitation and care. They will be posting YOSHI'S updates on their webpage below and will still be staying in touch with me on all of her care. She can always come back to us but this way she will get the best care and we can take in another dog that needs medical care in her place.
Learn about our other amazing animals