Zeke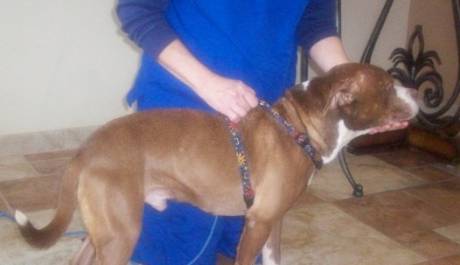 This sweet 3 year old gentle boy was used as a bait dog. He was picked up in Summit, Ohio and brought to the shelter there. He is covered with scars all over and at present has a ruptured left eye and a severely damaged right eye. The condition he is in now, he is blind. His teeth are the teeth of a bait dog. Some are filed down and others are broken off from having to defend himself. His teeth really are a mess and the majority that are broken will have to be pulled or fixed. His time was up at the shelter and he was scheduled to be PTS. The Animal Control officers were doing everything they could to keep this sweet, loving dog alive. Because he was a bait dog his time was up. After reading his story, we decided this is a dog that deserved the right to life. No animal should have to endure what this little one has gone through. He has been pulled and is in a wonderful veterinary / surgical facility in Ohio. He will be there for approximately one month getting all of his treatments so he can heal and repair the abuse that happened to him. This particular facility is able to do all of his treatments and has the necessary equipment to treat the one eye that we are trying to restore some sight in. His left eye is ruptured and will have to be cleaned out and sewn shut so it can heal. When his treatment is completed, he will be transported to South Carolina.
Our sweet boy is doing pretty good. He is dealing with some intestinal problems that is normal but with everything else he is dealing with, he just doesn't feel good. His tail still wags every chance he gets to wag it for someone. In one more week when he is strong enough we will do surgery on his eyes and neuter him at the same time. We are treating the one eye with the ulcer to try and restore a little bit of sight to it. We are doing lots of drops and laser treatment on the eye and it appears to be making a difference in the ulcer in the eye. We will not remove the second eye if there is any chance it can be saved. His teeth are in terrible shape and will be taken care of when we do his eye surgery. He really is a doll baby that loves everyone. There is a video camera in his room in Ohio so I can watch him anytime I need to. Right now he just wants to sleep and heal a lot. He is given lots and lots of love and affection from everyone there and has a new cuddly bed that has a back on it for him to feel more secure in. He has not adjusted to his loss of sight yet and we want him to have a place that he feels comfortable and secure in.
December 14, 2009
This sweet pup is dealing with a terrible bout of kennel cough. He is being treated for that and we are hopeful his cough should improve soon. This guy needs a break. Let's keep him in our prayers that he gets through this quickly.
January 2, 2010
Sweet Zeke is doing wonderful. we are discovering that as he is getting a little of his sight back in the form of shadows it is causing him to be fearful of other dogs and therefore causing him to be aggressive toward them. This is common for an animal that has lost his sight and is not something we are concerned about. he is doing great. His cough is gone and he loves playing with anyone that will play with him. Kids come to play with him all the time. He will have several more surgeries before he leaves the middle of January to come to SC. He is a sweet dog that everyone just loves.
January 10, 2010
Zeke will be leaving this week to drive down to SC from Ohio. He will be traveling with HOPE that will be coming to SC also. Zeke has finished will all of his surgery and has had all of his damaged teeth removed and all of his dental and eye work completed. He loves everyone that comes to play with him. We are having some issues with other dogs because of his backgroud but are very hopeful that some training will get rid of those issues. It is really only certain dogs that seem to upset him and others he could care less about. He has a little sight in his one eye but it is mostly shadows that he sees that show light and dark. That is a little confusing for him but he is adapting well.
January 13, 2010
Sweet Zeke is out of the hospital and is now in SC. He is with his new foster family being socialized and evaluated before he will be placed in a loving home. He is doing wonderful and just loves to spend every minute with someone laying in their lap or just leaning on them. He is being spoiled by a wonderful group of people at Three Black Dogs in Bluffton, SC. They are all pitbull lovers and are wonderful with training and working with our pits before they are placed. We are very grateful for their kindness and generosity in helping us with these wonderful animals.
February 7, 2010
We think we have found a wonderful home for this wonderful boy. He is a little dog that just loves being in your lap all of the time.
Learn about our other amazing animals