Zoey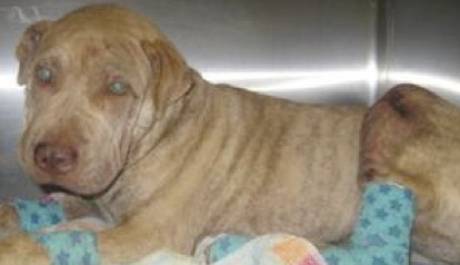 This beautiful 6 month old brindle shar pei was brought to the Emergency Room after being hit by a car. Her owners then signed her over to Greenville County Animal Control where any injured animal can be euthanized within 24 hours if no one steps up for their surgery and rescues them. The accident crushed her pelvis, fractured her femur and leg. She also has a terrible place on her hip where the impact of the car was so hard that it destroyed a large area of skin covering her hip. That skin has since died and we are hopeful we can get it to come back. She has had her surgery and has a long road of re-habilitation ahead of her. Through it all, she has been nothing but a sweetheart. When she recovers, she will be available for adoption. She will make a wonderful pet for some lucky family.
October 3, 2009
Zoey is doing great. The raw place on her hip is slowly beginning to heal and we are feeling good about it. She is beginning to put her injured leg down more each day. She really is a sweetheart of a pup. Her foster Mom just adores this sweet dog. She has had a hard time of it and I think is also a little sad that her family signed her over to the shelter. We are going to make sure this sweet girl will have nothing but love and affection from here on out.
October 18, 2009
The sweet pup has really had a hard time getting over a UTI. We have had to change the antibiotics several times and as soon as we get her over one bacteria, she gets a totally different one. We have been taking a culture each time to fine the one that will work. Her leg is doing great and her patch of dead skin is about the size of a quarter. She is still a sweetheart andwill make someone a wonderful member of the family.
This sweet girl is being spoiled rotten while with a foster family in Vermont. They just adore this beautiful girl.
Learn about our other amazing animals