ALBERT (Pitbull)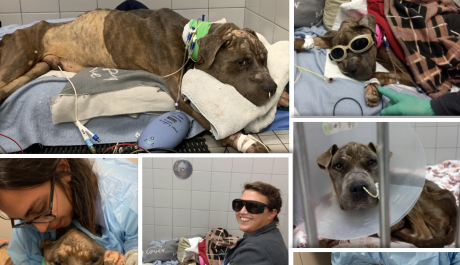 It is with profound sadness, I have to let you know that dear Albert has crossed over The Rainbow Bridge. Last night we were filled with joy when Albert became more animated and seemed to turn a corner in his recovery. Instead of regular PT, we decided to do some laser therapy, as you can see in the pics with his doggles on. Albert was more stable than he had been since we rescued him. His electrolytes, glucose, and blood values had been holding steady for the last three days.
We knew it was just a matter of time before he had the strength he needed to bounce back. Everyone that worked with Albert had given a piece of their heart in turning this amazing dog's life around. No one was giving up on him. Albert had been fighting to survive because he wanted to be here. Whatever hardship he had endured, it was nothing compared to the love and care he received in the last two weeks. He was going to make it.
All the determination he had and the love we showered on him could not have prevented the outcome. Sweet Albert threw a clot that caused paralysis on the side of his face. His ICU Team was with him the entire time when they realized what was happening. The clot caused him to have a stroke we believe from his heartworm disease. Before he started having seizures, we immediately got him comfortable and removed all of his IV lines so he could be free of any medical tubing. The ICU Team held him in their laps and helped him cross over while he was still aware of their love and comfort.
He slipped away in a blissful slumber without realizing what had happened. Our only regret is that we did not find him sooner, so we could have loved him longer. Albert was supposed to be with us long enough to fill his Heart and Soul with a lifetime of unconditional Love. Everyone at CVRC showered him with love and care. There was never a day when we did not believe he would make it. Albert made us believe in him and his Will to live.
Tonight when you look up at the Night Sky, don't be sad. Start cheering for the beautiful dog that never gave up or gave in to his hardships. Albert never gave up on Love. All of the stars are twinkling bright because our big beautiful boy with the biggest eyes is finally Home.
Thanks for caring and believing in the power of unconditional Love. Albert left this World, knowing how much he was loved and adored.
Learn about our other amazing animals