BARNEY (Beagle)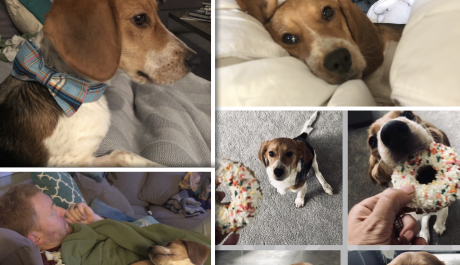 Barney had a rough start when we first rescued him. There was a time when I thought he was never going to be able to walk again. Lots of Rehab and Love and our dear boy is walking. He gets tired quickly, but that is part of his rehab. It will take a while for him to adjust to his new positions. He walks very tentative at times, but that is part of the process.
Barney has the best attitude of any dog that has endured so many procedures. He never complains and is easy to do his range of motion exercises. He goes on walks but is still on restricted activity. Barney's legs are never going to be perfect, but his personality is about as perfect as you could ever imagine. He is a young pup that has the rest of his Life to run and play once he is fully healed.
We will be doing x-rays later in the week to make sure none of the bones that were set have gotten out of alignment. Just because a dog has plates, screws and pins does not mean the areas cannot move. If Barney jumped or started to run, he could easily move the bones that have not calcified. Our hope is he is still aligned correctly.
Now for the best news of all, Dr. Kerry Rissetto and her Husband Dr. Jeff Davis, DVM will be adopting sweet Barney. They started out fostering him and soon realized he was the one. This will be the second Beagle they have adopted from us. We could not be happier for Barney and his beautiful Family. As you can see from the pictures, Barney is quite smitten with Dr. Davis. Thanks for helping us with this cute pup they are now calling Bernard.
Learn about our other amazing animals