BEAR (Yorkie)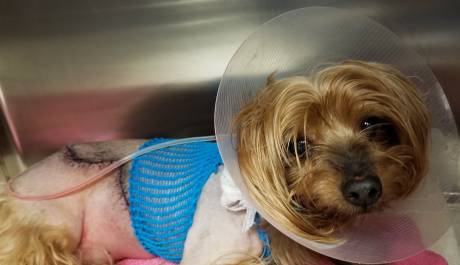 We have been jumping through hoops getting all the dogs taken care of that came in during Thanksgiving and moving them from one hospital to the next. One pup that is due an update is gentle Bear. The tiny Yorkie that was burned on one side of her body has had surgery to close the wound.
After a week of bandage changes and wrapping with the Wound Vacuum in the hospital, little Bear's infection resolved so he could have surgery to close the open area. A drain was put in after his procedure to allow the area to continue draining until the two joined areas granulated together. The good news is the area had minimal drainage, and the drain was pulled after three days.
If you look at the pictures of how Bear was when he arrived and how he is now, it is a Miracle he survived. This Little Boy Wonder is back at the Rehab Facility waiting patiently to have his stitches removed and to be neutered. Once that is done, he can be placed in a loving home.
It is a shame someone did not look after this little boy when his Owner had to go into a Nursing Home. Everyone says he is eleven, but there is no way a pup with this kind of energy is eleven years old. He has no gray on his body, and even though his teeth are not great, I believe that is from lack of care more than anything. We believe Bear is closer to eight years old. Bear runs around the Rehab Facility and Fetch Mkt. like he has never had a care in the World. Once his fur grows back, you will never know the abuse and torment he endured.
Bear gets along with everyone he meets. All of the dogs love him to pieces and give him constant kisses. He is going to make the best Family Pet for some fortunate person. Even though Bear has had his final surgery, we still need to raise funds to cover his bills. Everyone has been focusing on Luke when in reality we have 32 dogs that are under our care. Eight new dogs came into our care over Thanksgiving that are each critical.
Please, do whatever you can when we send the pleas around for Help. Holidays are the worst time of year for Man's Best Friend. Help your Neighbors and be mindful when hardship strikes those less fortunate. Thanks for being the Good in the World that considers others each and every day.
Learn about our other amazing animals