BLIZZARD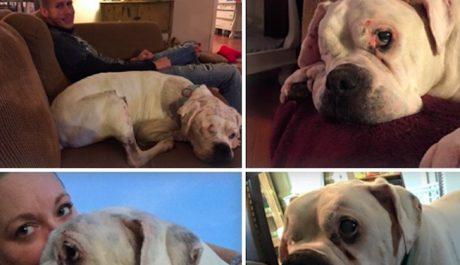 We wanted to let everyone know that sweet Blizzard / Helen crossed over the Rainbow Bridge. Our dear girl had been adopted by a wonderful Family that loved and adored her. She had been thriving and had not been sick at all. She suddenly became very weak and began to stumble. She was rushed to the ER Hospital when they discovered her gums were very pale, and she was breathing heavily. The ER Vets did their best to stabilize her but unfortunately she deteriorated from there and passed away quickly in the arms of her Family. The Vets think she might have had a tumor or mass on her spleen or major organ that burst suddenly that caused this.
There was never a day that our dear girl did not have a smile on her face and a tail wag for anyone that would look at her. When she was emaciated and abandoned, she still loved people and gave far more than she got. Her wonderful Family named her Helen, which she responded to quickly with lots of tail wags and kisses. Helen had the Life we always wanted for her. Unconditional love and care at all times. We missed her when she was adopted but celebrated her victories over cancer and her horrible past. Blizzard was one of the lucky ones that found love from the minute we rescued her. We all adored her and couldn't shower her with enough kisses and hugs. In the end, all we want for any of our Abused Animals is to know unconditional love and find peace. Blizzard found all of that and then some. Our dear girl is finally home with all of the other pups that have passed before her. We know we can't save them all, but we can show them unconditional love and care. When you look up at the stars tonight, look for the brightest one, and that will be Blizzard standing so proud and beautiful.
We were going to post this earlier, but we wanted her Family to have time to grieve and to adjust to her passing. Thanks for caring and being part of her amazing Journey to heal and find Love.
Learn about our other amazing animals