BOSLEY (Terrier Mix)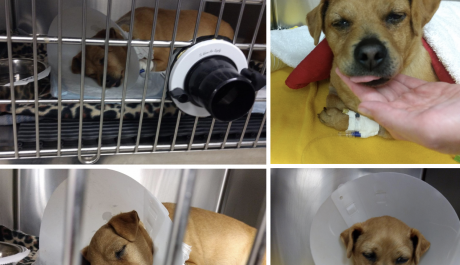 I am happy to report that Bosley has improved but is still very sick. The Specialists at CVRC were able to get him stable so he could have his neuter surgery. Dr. Jennifer Au did Bosley's Surgery as quickly as possible since his blood pressure kept dropping. Once he was out of surgery, it took them several hours to get him stable. He has been able to hold his own since then.
Over the next couple of months, Bosley's enlarged prostate should go down and give this sweet pup much-needed relief. Our Little Man is a plump sausage which adds to his health issues. At first, we thought he was just swollen up from his bladder and prostate. Now that he has been in the hospital for a week, they have determined a lot of his issues stem from the fact he is considered obese. His little legs are muscular from carrying around all this extra weight. The good news is he has already started to shed some of those unwanted pounds.
Bosley's medical issues have increased since the MRI was done. We now know he had a seizure and then days later started having mini-strokes which the MRI showed. He is on seizure meds and also Plavix to hopefully prevent more strokes. Bosley's Specialists believe his weight is because he has Cushing's Disease. We will not be able to test for that until he has recovered from his surgery.
I just received some new information on Bosley. I originally was told he was a stray but have since found out that a Good Samaritan took him in to prevent neighbors from shooting him due to obvious signs of pain. Animal Control was then called and he was taken to the ER in Greenville, SC. I will never understand how anyone could shoot a dog or hurt one. If your pet is in that much pain, take him to the Vet to be evaluated and if needed to be humanely euthanized.
Bosley is fabulous and adorable in every way. How anyone could have allowed this to happen is inhumane. Breaks my heart for this little Chihuahua/ Dachshund Mix. All this pup needed was for someone to care. Thank the Lord the Neighbor stood up for him or we would never have known this sweet pup.
Bosley's bills are way out of control because of all his medical issues and his MRI. Please, keep the Donations coming in for this little guy so we can keep going and resolve all the medical problems he is having. The good news is he is going to the bathroom on his own now and has finally gotten his appetite back. Thanks for caring and making his Journey to Heal and find Love, possible. Your support is greatly appreciated.
Learn about our other amazing animals