BRIXX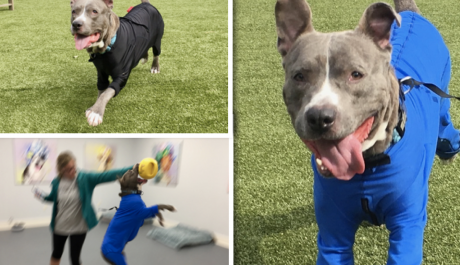 Wonderful Brixx is finally healing from his horrible injuries. We had two suits made to allow his wounds to heal without bandages. Brixx running around in his blue or black suit does not get any cuter. His wounds have finally stopped weeping so he can be out of his suit for longer periods of time. We are now aggressively doing wound massage to break down the scar tissue, so it is more pliable.
Brixx is one of the cutest pups. He loves his toys and will take down a tennis ball or big ball in less than a minute. We have seen a lot of serious chewers, but he has taken on a whole new level of chewing. He could be a mascot for tough dog chews only we have not found a ball or toy that he cannot destroy. This pup has some serious jaws on him.
I believe Brixx could play all day long if we would stay out with him throwing a toy. He will fly through the air to get anything that you throw. You just have to make sure your arm is out of the way when he jumps for something. He is a wonderful boy and will make a great addition to a home that does not have small children and can get out and run or play with him. He does not like male dogs but is fine with passive females. We would have to do a meet and greet to make sure they would be compatible. We think he would be best in an only dog household unless you have the perfect submissive girl.
Brixx's wound has several more months before they are fully healed. He will have some areas that will be very smooth, and hair will not grow back, but that does not take away from his amazing personality. This boy loves people and is always excited when he has company. He is great in his kennel at night and sleeps like a baby from all of his aggressive playing all day. He is up to date on everything and just waiting for his perfect Family to walk in the door and say "I Choose You.".
Thanks for helping us with this wonderful pup.
Learn about our other amazing animals