CRICKET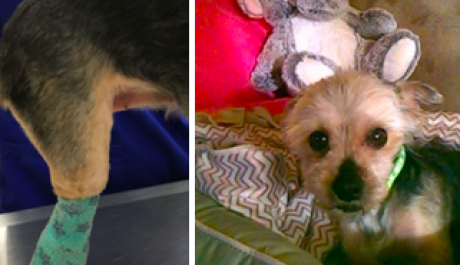 I am happy to report that our tiny Cricket is doing wonderfully since we removed the lower part of her rear leg. Her cart arrived, but we are not putting her in it since she is walking so well without it. We don't want her to stop using the leg and lose all of the muscle tone she has already begun to get back. Cricket is so tiny and balanced that she prefers to walk on her front legs most of the time. She will use her rear leg for balance or when she is walking slowly. When she wants to get somewhere fast, she hops on her front legs and takes off.
Cricket's surgical sites are healing beautifully and not causing her to have any discomfort. Unfortunately, she started having blood in her stools and didn't want to eat so we have her being checked out for any new issues. Her Specialists thinks it was from the meds she had been taking which have since been stopped. We should know more in the next couple of days but feel we have a handle on what could be causing her issues. As if she could not be spoiled anymore, she is now getting all of her meals cooked fresh to entice her into eating. She sure does have all of the Vet. Techs and Specialists wrapped around her tiny paw.
Cricket's condition when she arrived is still horrifying to think about. She is an adorable pup that loves everyone. She has the sweetest personality that makes your heart melt every time she looks at you. How anyone in their right mind could have allowed this little Angel to get in this shape, is something we will never be able to understand. Cricket is a tiny five-pound pup that loves being in someone's lap and playing with a toy. She freely gives kisses and has won the hearts of everyone she meets. The fact she was as close to death as an animal could be is a tragedy.
Cricket knew good times were coming, and she was right. She has been loved and pampered non-stop since the first second we got our hands on her. This sweet girl has had such a horrible Life that we don't really know how old she is. My hope is that she is young and has a Lifetime of unconditional Love to make up for all the abuse she has had to endure.
We are still taking donations to cover her last surgery and the balance of her Medical Bills. Any amount is greatly appreciated so we can help more Abused Animals like our Dear Cricket.
Learn about our other amazing animals