ELLA (GSD)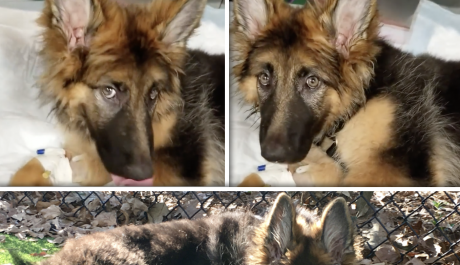 We have lots of good news and some bad news. First comes all the good news. Adorable Ella has been seizure free for 48 hours. She has been off her Midazolam for the past 12 hours which had her sedated. She is on seizure meds that are being lowed each day slowly to determine where her threshold is.
Ella is finally able to get up and walk around. The first time they allowed her to walk, she had to have a harness to give her support but is now stable without one. This adorable puppy has gone from us thinking we would eventually have to put her down to our Happy Dance.
The battery of test we did have given us lots of great information. The MRI showed us a beautiful, perfect brain with no abnormalities other than she had some edema which we believe is from all of the seizures she had. Her Spinal Fluid came back that she has some inflammation that is either bacterial, viral or fungal. We are doing more test to determine which it is. We have added new tests based on this information.
Since Ella is up and around, we have removed her fluids since she is not in danger of aspirating. She can eat and drink on her own. She lost a little bit of weight over the last 48 hours but should regain that quickly. The next week is going to be critical for us to determine how low we can go on her beds while we are addressing the initial cause of the seizures. Her Neurologist and Critical Care Team feel good about the results and think they can get her seizures under control.
Now for the Bad News. We desperately need Donations for this beautiful pup. We have not even gotten enough to take care of the MRI much less the Spinal Tap and all of the other tests plus her being in ICU. Her bills are into the thousands, and they are going to keep going up while we work through what caused the seizures in the first place. Ella was not a puppy with a few seizures. She had hundreds in a day.
We took Ella under our care to give her the best Life possible. We now know we can do that and are not going to have to put her down. She deserves a Miracle, and we are going to give her that Miracle. Please, Help Us, Help Ella by DONATING.
Learn about our other amazing animals