ELLA (GSD)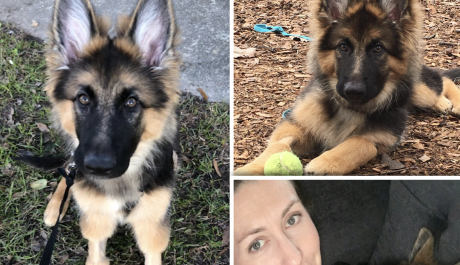 I decided it was best to wait for all of Ella's test to come back before doing an update since she had been doing so well. I am happy to report that all of her tests including her Tick Panels have come back normal. The only thing found, were the inflammatory cells initially in her Spinal Fluid and bacteria. Ella's Neurosurgeon has not come up with any other source for her seizures.
Ella has been seizure free since we initially took her into our care in ICU. She is now being tapered down from her seizure meds but will remain on enough to keep her hopefully seizure-free. In the beginning, Ella had to be heavily sedated to stop all seizure activity. She is no longer sedated and is functioning normally.
Sweet Ella is now a typical puppy that wants to run and play and chew on anything and everything. I forget how sharp puppy teeth are but let me tell you; they are like little spikes. She is a beautiful long-haired German Shepherd that is going to be huge when she ha fully developed. Her paws are much bigger than the rest of her body right now. Her big bunny rabbit ears appear to get taller each day.
Over the next month, we will have a better idea of what dose anti-seizure meds will be appropriate for her. Ella does have some residual effects from all the seizure activity she had. She has a few tiny white spots on her brain that were seen on her MRI. Only time will tell us how those spots will manifest with Ella's development. So far, she is pretty standard other than occasionally taking off as if something scared her and then running in circles. It is only brief but is something we will be monitoring.
Once Ella has developed more and is stable, we will do a repeat MRI to determine if the fluid on her brain has resolved. You cannot have hundreds of seizures in a row without having some residual effects. Only time will tell us what those will be. The good news is we got Ella just in time before her brain was destroyed from all the seizure activity.
Thanks for helping us save this beautiful puppy. She would not be here today if it weren't for your generosity.
Learn about our other amazing animals