IZZY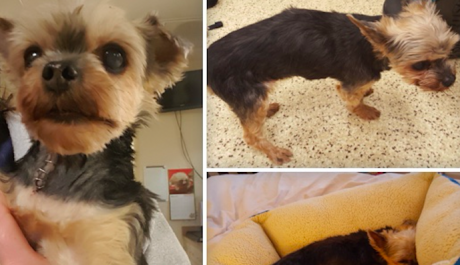 I am happy to report that adorable Izzy can walk. We were a little concerned at first but then she decided to come out of her shell and Buck Up as we say and use her cute little legs. She started out walking very gingerly but soon realized the more she moved, the better she felt. Everyone is so in love with Izzy that it is hard to put her down to walk. Her tiny little body makes everyone want to wrap her in their arms or put her in their pocket for the rest of the day. Adorable does not even begin to describe how cute she is.
Dr. Bergman had a few concerns but was relieved when the surgery turned out to be better than expected. One of Izzy's Vet Techs has fallen madly in love with this sweet pup and is going to Foster to potentially Adopt her. Since Izzy has already fallen in love with her, so she will be out first pick. If that doesn't work out, we will then look at all the other people that sent applications in. I wish all our pups had this many applicants. Izzy has had a horrible Life up until now. This is her time to finally be the center of attention and be loved and adored.
We are still way behind on donations for this adorable pup. Please, Donate whatever you can to pay off her bills before she leaves for her new home. Thanks for caring and helping us with her amazing recovery to Walk.
Learn about our other amazing animals