Little Boy (Hound)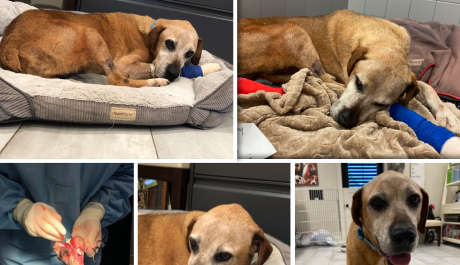 Little Boy has had a rough time recovering from his surgery. Yesterday was the first day he became more animated and wanted to get out of bed and interact. He is a 14-year-old sweet pup who has never had medical care. The surgery took a lot out of him, but nothing he could not recover from. It just took him a lot longer than we anticipated. The good news he is feeling much better and is eating enough to put weight on.
We knew the growth on his foot was going to be cancer before the results came back. He already had tumors in his lungs, which we believed had metastasized from the growth on his foot. The digit was removed with decent margins along with the infected area. Unfortunately, Little Man's case is more complicated than we expected.
The digit mass is a Malignant Melanoma that is highly invasive of deeper tissue and tendons in the area. The cancer had metastasized to Little Boy's lungs from the Melanoma. Sadly, our sweet pup also has Lung Cancer that originated in the lungs. His poor body is being hit from every angle. If Little Boy had not started to turn around, I would have been anxious about him coming out of this.
Our ultimate goal was to remove the infected digit that was causing him pain and suffering. Having cancer does not mean you have to suffer. Cancer eventually wins, but the quality of Life you get during your worst hour is what matters. We don't know how long Little Boy will have. What we do know is he is happy, loved, and spoiled rotten. He has to have constant bandage changes and loves every minute of the attention.
Once he started to feel better, he was all about the attention he was getting. I know his foot hurts, but you would never know it based on how fast he can run across the training room for a hug. Little Boy has had the same name for his entire Life, which is why we are not changing it. He responds to it, and that puts a smile on our face.
Thanks for helping us with this special pup. He will get to live out the rest of his Life in our Hospice Program surrounded by people that will love and adore him for the Gentle Old Soul he is.
Learn about our other amazing animals