Little Boy (Hound)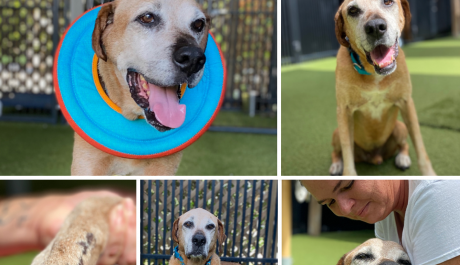 Little Boy was in horrible shape when we rescued him. The only Family he had known was going in a Nursing Home, and his extended Family would not take on Little Boy's care. After all of the results were in, we decided to put Little Boy in our Hospice Program. His Oncologist did not give him much time at all, given his condition.
Well, someone forgot to tell that to Little Boy because he is doing amazing. He is anything but little and has filled out beautifully. Only once in a blue moon does he cough, and his foot has healed without any issues whatsoever. He loves all of the attention and will follow you anywhere. He plays with the other dogs in an Old Man's sort of way (not too active and not too fast). Everything with Little Boy is in slow-motion.
The Life he once lived and the hardship he has endured, has almost disappeared from his memory. This precious older pup is happy and joyful every second of the day. Little Boy would make a fabulous dog for someone prepared for him not to have a long Life. We think he might have another year left because of the two different cancers. He might even live longer, but the person would have to be prepared for this.
The only reason I am putting this out there is that he is doing so well and would make anyone happy to have him around. We love and adore this big pup. Everything about him makes us smile. The thought he was not wanted or given any medical care breaks our hearts. Little Boy is safe with us until his time comes. He is getting the best Medical Care possible and loves every second of the day.
Little Boy has fully healed from his surgery and can walk without any further issues. His surgeon got clean margins, and we have not seen any signs of his cancer returning where the digit was removed. His lungs are just a matter of time with Lung Cancer, but he does not show any signs of respiratory difficulty or coughing. Life is Good for Little Boy.
Learn about our other amazing animals