LUNA (Boston Mix)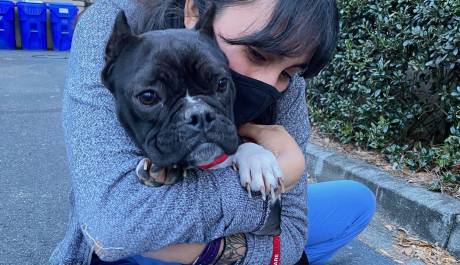 LUNA BELLE.......I am happy to have good news that we have found a qualified Veterinary Hospital that can perform Luna's heart and lung procedures. Dr. Sophy Jesty has worked tirelessly during the entire time Luna has been in ICU to find a Cardiologist that could perform both of her procedures. Dr. Jesty initially thought Luna would need Open-Heart surgery to survive. Only a few Vet. Hospitals could do this type of surgery.
After consulting with every heart specialist around, Dr. Jesty and the specialists decided Luna's best bet was to go to NC State in Raleigh to have the procedures done. Her initial appointment will be this coming Monday, when they will do a thorough evaluation over several days. They will then perform two procedures. The first will be a balloon valvuloplasty. In this procedure, a thin catheter is inserted into the heart, and a balloon at the tip is inflated to stretch open a constricted heart valve. This procedure improves the flow of blood to the lungs for oxygenation.
Next, they will insert a small shunt called a modified Blalock-Taussig shunt. The device is a small, artificial tube that diverts blood through the lungs to pick up more oxygen before it travels into the body to revitalize cells and tissues. The shunt connects a systemic artery, which carries oxygenated blood to the body, to the pulmonary artery, which carries deoxygenated blood to the lungs. Both procedures require specialists that have done these procedures numerous times.
All of this is happening because Luna was born with Tetralogy of Fallot, a set of four structural heart abnormalities uncommon in dogs and is often fatal before 1. We will be forced to put Luna down if we do not proceed with the surgery. She cannot survive without these procedures. Since Luna has been in ICU, she has been bled twice to get her red-blood count down. She has to be kept slightly sedated to keep her from becoming excited. Excitement causes her to pass out and her heart to potentially stop.
I am determined to save sweet Luna no matter the cost. The hard part has been finding Specialists that are qualified to do the procedures. Luna's initial bill at CVRC has been close to $9,000. We are still raising funds to pay for that bill. NC State's bill will be close to $10,000. barring any complications. We are desperate for funds but more determined than ever to save this beautiful puppy now that we know we can save her.
Please, Donate whatever you can and send the e-mail to all your friends so they can also assist us with Luna Belle's Life-Saving Surgery. Thanks for making her Journey to heal possible. Your support is greatly appreciated.
Learn about our other amazing animals