MATTIE (Yorkie Mix)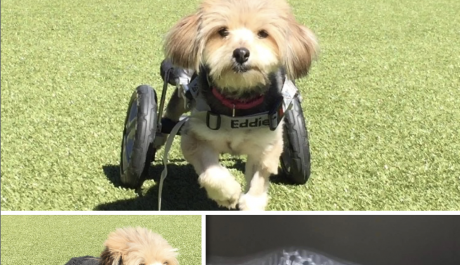 MATTIE has a brand new cart fitted just for her. This sweet Angel has been dying to get out and run around. She has been in a drag bag, but it doesn't get her excited like her new cart does. This beautiful pup is FREE at last to run around to her heart's content. It was like she had waited all her Life for this moment and when it finally arrived, she took off like she had been born in a cart.
The deformity in Mattie's spinal column will never improve. It doesn't matter if it was genetic or from an accident, the result is the same. Her discs have fused together in a way that can never be broken or repaired without jeopardizing her Life. As you can see from the video we have just posted, Mattie is as happy as can be with her Life the way it is. She does not need any surgery.
The main concern with Mattie and all of the paralyzed pups we have is her bladder and bowels have to be expressed on a consistent schedule. Paralyzed dogs are prone to infection if their bladders are not completely expressed throughout the day. Mattie is easy to take care and has a smile on her face all the time. She is a special needs pup that loves playing outside and chasing a toy. Her cart has given her back her Life.
If you think Mattie is right for your Family, please, drop us a note or fill out our Adoption Application. All of our Special Needs pups require a family that is going to be home more than a dog that has no limitations. We love this special girl and will keep her with us at the Rehab Facility until the right Family comes along. Thanks for making her Journey to Heal and find Love, possible. We greatly appreciate your Love and Support.
Learn about our other amazing animals