McDuff (Am Bulldog / Boxer)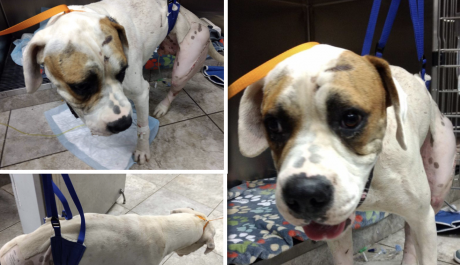 Sweet McDuff had a very rough start, but I am happy to report that he is finally coming out of his nightmare. Our big beautiful boy is BIG, and his bones were BIG shattered bones that hurt from the moment he was hit by a vehicle. McDuff is covered with tiny abrasions all over his body in addition to his breaks. The saving grace for this sweet dog was when we finally got him to a hospital where he could have his surgery. The swelling in his body had reached a point where it caused his entire body to hurt.
Once McDuff arrived at CVRC, everyone in ICU was working non-stop to get him comfortable because his pain level had gotten out of control along with his swelling. I felt terrible for him because it was apparent he hurt everywhere. The most significant difference was how he felt once the surgery was done. Removing a shattered leg takes most of the pain with it when it is removed because there are so many broken bones that hurt. Removing a leg does not require any bones to be cut.
We thought our dear boy would be out for about five days recovering from his surgery. We could not have been more surprised when, after two days, he was putting some weight on his repaired leg and assisting with the sling. Lifting a sixty-pound dog is no small feat. It takes several people to do it in a controlled manner to not injure the repaired leg. The day McDuff helped lift his weight with the sling, it went from two people to one, and everyone cheered.
Dr. Wolf put a massive plate on McDuff's leg to allow him to use it gingerly while it heals. He still has a long recovery, but the worst is behind him. It is now just pampering the leg and doing rehab, so he restores the muscle loss. The other good news is since McDuff is such a large boy, it was his rear leg and not his front leg that was removed. It is much easier to pull your body forward as opposed to pushing with your back legs.
Big dogs have big bills, and McDuff is no exception. He had three procedures that cost us upward of $9,000. That is a huge hit, and he is still in the hospital. We got very little in donations for this precious pup, which I am completely surprised by. Everyone was yelling for us to step up and take him, but now we have to pay for his surgeries. Please, Donate whatever you can so we can move on to his next phase of Healing and Rehab.
As big as McDuff is, his personality is even bigger. We love everything about this big boy. He loves everyone he meets and does not appear to have any issues with other dogs. McDuff is as sweet as can be. We love this big beautiful boy and would have done anything if he was our dog to save him. He will make the perfect Family dog for someone that loves big dogs.
Learn about our other amazing animals