McDuff (Am Bulldog / Boxer)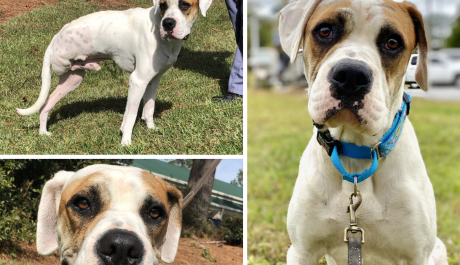 We have been swamped at Noah's Arks Rescue, taking care of the in-house dogs that still need a lot of Medical Care. We are busy from sun-up to sun-down each day, non-stop. The one pup that has made the most progress this week has been our dear McDuff.
Sweet McDuff was slow on improving at the beginning. He lost one rear leg, and his remaining leg had a massive plate put on to fix the break he had. For weeks he would give you the saddest look as if begging us not to make him get up and use his leg. Weeks of coaxing and loving on this precious boy have gotten us to a place where he can officially be adopted. He will be on restricted exercise for another two weeks but has gotten to a place where he can go out for walks without buckling his rear leg.
McDuff will eventually be able to run around but not until his rear leg has completely healed and scarred over. In the meantime, we are looking for the perfect Family that wants a big dog that loves everyone. He has the personality of an American Bulldog that wants to play and love on everyone with the Boxer bouncy sweetness. I see why he was once called Droopy because he can give you the saddest, droopiest expressions you could ever imagine.
We do not have cats at Noah's Arks Rescue, but I would imagine he would be fine since he does not appear to have any prey drive. If anything, he is indifferent to a lot of the dogs and wants to sniff and smell and play. He is very protective of his rear leg but not in a bad way. He will keep his distance if a dog is too rambunctious. We are overly cautious when it comes to small children and big dogs. We think McDuff would be better with older children that he could not knock over.
We are still raising funds for this special boy to pay his Surgical Bills. I do not have a clue why so many people do not want to Donate toward his care. His surgeries were massive and had to be done to save his Life. He deserved to be saved, just like all the other dogs that were tortured and abused. The only difference is he was hit by a car with no Owner coming forward to help him. Please, Donate whatever you can, and if you have already donated and can afford to give again, please do, so we can move on to save more pups like McDuff.
If you think this beautiful big boy would be right for your Family, please, fill out our Adoption Application to be considered. He will make the best Family dog that will give you tons of kisses and love you forever.
Learn about our other amazing animals