Mr. Furley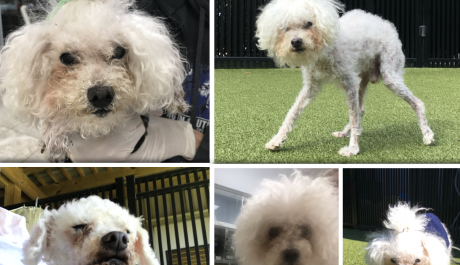 Precious Mr. Furley has crossed over The Rainbow Bridge. Last two months, Mr. Furley had gone downhill. He was in and out of the hospital with pneumonia and upper respiratory infections. This past week, he no longer wanted to eat and became extremely disoriented. All he wanted to do was sleep from sun-up to sun-down.
We had Dr. Marikay come by and check him out on several occasions. Each time she came, we thought for sure today would be the day. Mr. Furley would give me a sign, and I would hold him in my arms and know that today was not the day, and everyone would go about their regular daily routines, including Mr. Furley. Life was Good for this amazing pup in every way. He was loved and cherished for the wise, old pup that he was.
This past evening, Mr. Furley was different. He did not want to eat or drink, and all he wanted was to be in my arms. He had developed a fever, and I knew he was telling me it was time to let him go. Dr. Marikay came to the Rehab Center late that evening, where Furley and I had been patiently relaxing and waiting. He could not have been more sweet or loving. He laid in my lap and then crawled in his bed with his head leaning against me. He was gone in a matter of seconds.
He went his way, on his time-frame with someone that loved and adored him by his side. He was not alone wandering the streets any longer. He lived the last year of his precious Life surrounded by people that loved and cared for his every need. We gave Mr. Furley and entire Lifetime of Love his last year, and he soaked up each moment wrapped in someone's arms daily.
Tonight when you look up into the Night Sky, don't be sad but be joyful for the long Life Mr. Furley lived. Oh, to be a fly on the wall in Heaven to hear all his adventures and stories. Our sweet pup will forever be missed and be a part of Noah's Arks Rescue Family. Mr. Furley has his beautiful Angel Wings.
Learn about our other amazing animals