NIKO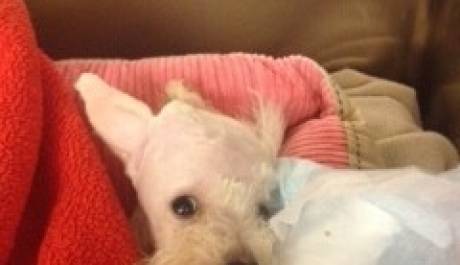 It is with incredible sadness that I have to let you know that sweet Niko lost his battle and passed away in his sleep this morning. His Neurologists had decided we had to replace his shunt because it kept getting clogged. I approved buying another one to see if we could get him back to the way he was before his line became clogged. Dr. Bergman had been manually removing fluid from his brain and each time he responded positively. He would open his eyes, move around and would also eat after each time. Unfortunately, you can't keep doing that because the chance of infection is too high. We knew based on the results we were getting when removing fluid from the brain that the shunt had to be replaced for him to survive.
When I look back at how energetic Niko was four weeks ago and how much Life he had in him, it is very had to understand how this could happen. I am a firm believer that an animal always has the chance to let go whenever they feel they have had enough. The problem with Niko is that he was still fighting to be here. Unfortunately, the pressure in his brain shifted just enough in the wrong direction that he stopped breathing.
We will forever be in awe of our little pup that had boundless energy to burn when he was doing his physical therapy. His little legs would move at record breaking speed. We knew that if we could just get them lined up and strong, he would take off, and none of us could catch him for miles. We all loved and adored our little Angel. He will forever be in our Hearts and Souls. When you look up tonight, look for the brightest star that is streaking across the sky. That will be Niko, running around saying hello to everyone that crossed before him. Our little boy is finally whole again and can run and run to his hearts content. Thanks for being part of his amazing Journey. He found love with all of us. He is finally Home.

Any donations to honor sweet Niko will go toward his final bills the past two weeks while in ICU. Thanks for helping us with this.
Learn about our other amazing animals