OLIVER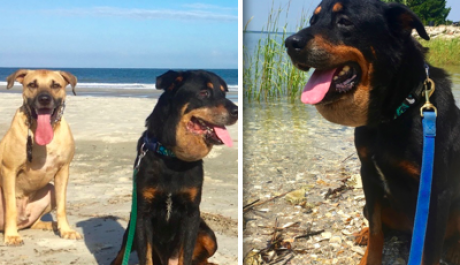 We got the final results back on Oliver and unfortunately it is not good. We knew he had a nasty cancer from the original biopsy, but we didn't realize just how aggressive it was going to be even after the main source of the tumor was removed. When Oliver went back to see Dr. Rissetto, his Oncologist she confirmed that the swelling in his neck are his lymph nodes where the cancer had already spread. The Cancer that he has had already spread to his lungs but the area below his jaw is the one that is so reactive right now. We have opted to take Oliver off his Palladia, chemotherapy which was taking away his appetite and keep him comfortable.
We decided to make a Bucket List for Oliver and each day mark off as many of the items we think he would enjoy doing. Right at the top of the list is shower him with unconditional Love 24 hours a day. He is never without someone loving on him. Next, he can eat anything he wants as long as it is not toxic. This one seems to be his favorite. The next is to give him a best Buddy to play with as much as he wants. We are adding new adventures for him each day. He has gotten to run and play in the Ocean with his Buddy Hazzard. He loves running up and down the beach. Anything we think he would enjoy, he gets to do. He is the happiest I have ever seen him. He is loving Life to the fullest. We are putting a Lifetime of Joy and Happiness into every second he has left. Life is Good for this amazingly sweet dog.
Oliver is being closely monitored to make sure he is not suffering. Our main concern is his airway will soon become constricted, and it will be difficult for him to breathe or eat. We will say Good-Bye to him right before that happens. We do not want him to know one more second of suffering. He has suffered all his Life, and he will not be allowed to suffer while he is in our care. We love this beautiful boy. Our only regret is that we didn't get to love you sooner.
Learn about our other amazing animals