OZZIE (Cattle Dog)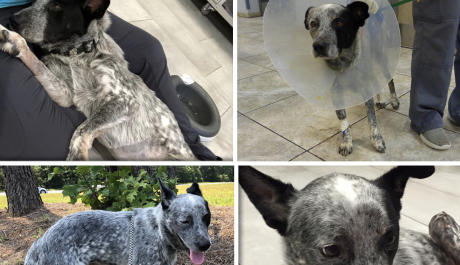 Sweet Ozzie is slowly beginning to get around after his surgery. It has been a rough two weeks with getting him to walk when he doesn't have a good leg to stand on that has not been injured. We have to clear his surgical leg of infection and also restore his ability to use the leg properly.
The problem with Ozzie walking on legs that are not functioning normally and are injured is it messes up your hips and ligaments. For the past two months, this amazing dog has adapted to a broken body. He has learned how to get around, and his body has changed with him. Unfortunately, it has changed in areas that we now have to correct.
Ozzie's front left leg is a non-functioning leg. We have managed to get a little bit of tone on the leg by moving it, but it is not a leg that he would ever be able to use. Once we restore the strength in his surgical leg, we will take Ozzie back to surgery and remove the front leg. The problem with keeping a non-functioning leg that has minimal feeling is the leg gets injured, and Ozzie does not realize this. Eventually, the dog starts chewing on the leg and could have significant blood loss.
Our sweet boy is still very thin. He is eating quite a lot to catch up but has a long way to go before he is at a healthy weight. Ozzie loves everyone he meets and would lay in your lap all day if you let him. He is allowed to go up to other dogs kennels and give kisses but is not allowed to play with the other dogs until he is stronger and has strength in his rear leg.
Lots of work went into saving Ozzie, and we are just at the beginning of his recovery. A lot of medical diagnostics had to be done to determine which leg to work on first. It seemed like each surgeon had a different opinion. In the end, I decided the best option for Ozzie, and it turned out to be the correct decision. It has given us time to evaluate his front leg fully before deciding to remove it.
We have lots of bills for Ozzie and all of the other pups we have in our care. Please, Donate whatever you can so we can continue with Ozzie's Rehab and get him strong enough to have his front leg removed. Thanks for helping us with this sweet boy.
Learn about our other amazing animals