OZZIE (Cattle Dog)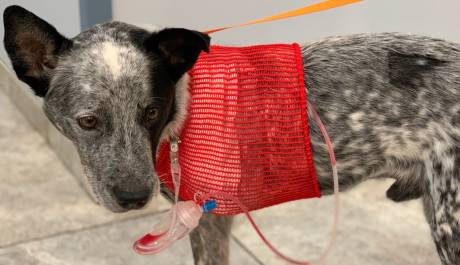 I am happy to report that sweet Ozzie did amazing for his Surgery. Dr. Rachel Seibert evaluated Ozzie's leg throughout the day and finally came to the same conclusion we did. His leg had to be removed since a repair of the leg would not give him the outcome we had hoped for. Once Dr. Seibert got into the removal, she discovered his radial nerve was a tangled mess. Any repair would have been worthless without the radial nerve functioning correctly.
She also found a large hematoma under his armpit we suspect is from his original trauma. Everything she found, confirmed we made the best possible decision for Ozzie. His leg was never going to function normally again. He recovered beautifully from his procedure but will have to stay in the hospital. Removal of his leg, along with the hematoma, caused him to have excessive drainage. A draining tube was put in to allow the excess fluid to drain out of the surgical site.
Ozzie is already up walking around as a tripod, which he has been since the day we met him. We just removed the bad leg to give him the freedom he needs to run to his heart's content. We expect the draining tubes to be removed the first of the week, and then he can come back to the Rehab Facility to finish his Heartworm Treatments.
Thanks for helping us with this beautiful pup. Ozzie is so easy-going and carefree. He could care less about the surgery he went through. In two weeks, he will be done with all of his medical and can finally be placed with his new Forever Family.
Learn about our other amazing animals