PATCHES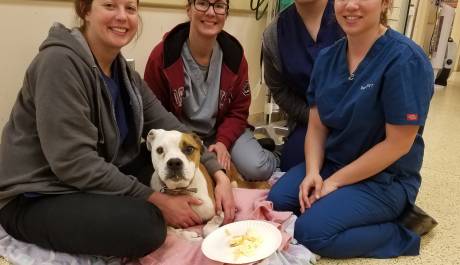 This is one of those mornings that I hate having to do this post. The hardest part of saving abused animals is having to say Good- Bye to them and making the final decision that stops their pain and allows them to cross-over peacefully in the arms of people that Love them. Our dear Patches has crossed over the Rainbow Bridge and after months of suffering has finally found Peace.
I wrestled with this decision for days once all of the medical information and scans had been completed. I spoke to one Specialist after another to come up with a different answer that would enable me to give Patches the Life he deserved. The end result is there was nothing I could do that I had not already done that would change what had already happened to his body. Lovable Patches spine was severed because of aggressive cancer that had destroyed it. The Cancer had already metastasized and was all throughout his body. If I did surgery to repair his spine, he would still not be able to use his rear legs. The surgery would not take away the cancer he had, and by the time he recovered from the long hard procedure, he would have died from the cancer.
I have spent three days, morning, noon and night looking for answers to save him. I am a problem solver and NEVER give up on an animal. There is no amount of money I would not spend if the outcome would give the animal a good Quality of Life. Sadly, the Fentanyl Patch and IV Meds were not enough to ease Patches suffering. They would ease it for short periods of time, but the pain he endured was beyond anything you could imagine. The pain meds also took away his Will to live and made him not want to eat. When this happened, I knew it was time to get him comfortable one last time and then say one final Good-Bye.
All of the incredible Neurology Staff gave Patches the best Farewell Party you could ever imagine. They brought him cheeseburgers, fries and ice cream and showered him with so much love that a Lifetime of suffering was eased from his beautiful face. He ate until he was full and then lay in their arms when he crossed over. This was my final act of unconditional Love for this incredible dog. My only regret is that I did not find him sooner, so we could Love him longer.
Tonight when you look up in the sky, look for the trail of stars that has a cluster slowly moving across the sky. That will be dear Patches for the first time realizing he is free of pain and suffering and is whole again. He can now walk and run and play and be a Carefree Dog, which is all we ever wanted for him. Spread your Angel Wings dear boy; you are finally Home and free of pain. You would forever be in our Hearts and part of the Noah's Arks Rescue Family.
Learn about our other amazing animals