REECE (Black Hound mix)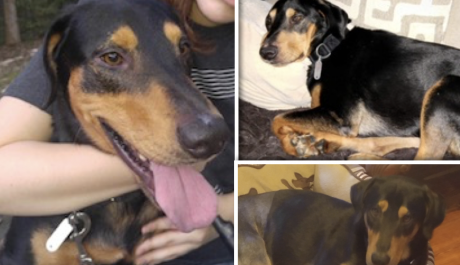 I am happy to report that sweet Reece has fully recovered from his Femoral Head Ostectomy (FHO) Surgery. He can now run around without any issues. Since Reece's injuries were old, we thought he would have complications after his procedure, but that has not happened. I think he was so happy to finally have a leg that did not hurt all the time, that he barely noticed having the surgery. The pain he had from the procedure was nothing compared to the pain he had already endured.
Reece loves playing with other dogs or cats and Squeaky Toys, the more, the merrier. He is fully house-trained and is ready for his new Family. Reece is great with kids and would play with them all day long if he was allowed. If you think Reece would be right for your Family, please, fill out our Adoption Application online. There is nothing better than a lovable Hound, and this sweet boy is one of the best.
Learn about our other amazing animals