RHETT BUTLER (Blue Pitbull)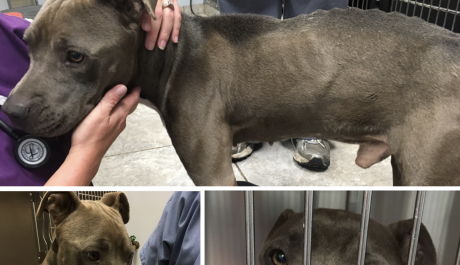 Sweet Rhett was admitted to CVRC to have Dr. Jesty administer his first dose of Adulticidal Treatment of Melarsomine at the beginning of the week. The procedure was done in the Cardiology Dept under the supervision of Dr. Sophy Jesty since Rhett has Class 3 heartworm Disease. Medication was given to control the inflammation from the die-off of heartworms.
Rhett had all of his values re-checked and an ultrasound done which showed his heart meds were working and he was not getting any fluid in his abdomen. Dr. Jesty also lowered some of his meds based on his lack of abdominal fluid. Rhett has shown remarkable progress since we rescued him four weeks ago. No one thought he would survive the night and he has continued to improve.
Over the last couple of weeks, Rhett developed a slight cough which he was treated for. The Low Country of South Carolina has been covered with pollen, and it seems to be affecting a lot of the dogs we have. Rhett's coughing was more of an allergy response than a heartworm overload cough.
Rhett has been on exercise restriction since we rescued him. His Adulticidal Treatment of Melarsomine has put him on more cage rest to make sure he does not have any complications. Rhett has been doing great since his injection but yesterday morning could not keep his food down and began to cough more than normal. As the day went on, his cough improved but he did not want to eat.
He was still his happy go lucky self when we noticed his gums were not as pink as they should be and his muzzle was very cool. We rushed him to the Vets to make sure he was stable to get him to his Cardiologist in Charleston. An ultrasound was done which was unremarkable along with blood work. Rhett's liver values had increased enough for us to be concerned and wanted him taken to the ER.
Dr. Jesty confirmed that something else was going on that did not have anything to do with his injection or heartworm disease. All of Rhett's vitals were good, but his liver values were cause for concern. Dr. Kristin Welch has taken over our dear boys case to determine what is causing the results we are seeing. She is doing a battery of tests to rule out a lot of causes and rule in others. We will not know the results for a couple of days.
In the meantime, Rhett is in ICU while they determine what has to happen next. Dr. Welch wants to rule out the possibility of him developing a Liver Shunt that would be causing the high values we are seeing. Dr., Welch is a fabulous Criticalist and Diagnostician that will give Rhett the best chance of surviving this new medical condition we are seeing.
Please, Donate toward Rhett's medical bills so we can give him the best chance possible to survive the abuse that has caused all of his medical issues.
Learn about our other amazing animals