RHETT BUTLER (Blue Pitbull)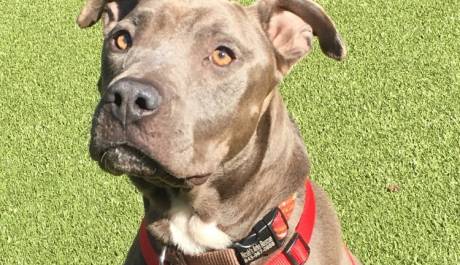 Sweet Rhett is out of the hospital and back with us at the Rehab Center. All of his tests came back that the problems he is having are because of his high level or heartworm over-load. Rhett had a burden of parasites when we first rescued him. We are doing more to rid his body of the blood parasites that are keeping him anemic.
We knew when we took on this sweet boy that his case was going to be complicated. That has proven to be true all along the way. The main issue we are dealing with is the fact his heart has been compromised. The good news is that the medications Rhett is taking to deal with his hypertension created by the right-sided heart failure are working.
Rhett is closely monitored for any signs of distress while he is undergoing Heartworm Treatment. For the next six months, he is going to require special care until we free his body of the parasites that have caused all of the destruction of his heart. Animals DO NOT thrive in a hospital environment which is why he does not stay there any longer than is necessary.
Rhett is back at our Rehab facility where he is closely monitored in a loving environment. He gets controlled walks all through-out the day and is part of the Family of dogs we have healing there but is not allowed to run around and play. He has dogs next to his area he loves that are calm and quiet. This way, he can still interact but not get excited about the possibility of running around and playing. I am always amazed by the way dogs gravitate to a dog in need. Leaning up against a fence just to have the warmth and companionship of another animal is beneficial and healing for both animals.
Thanks for helping us with this sweet boy. He is an on-going Medical Case that we will be posting for each time he has to go back to the Cardiologist for his Treatments or any problems that come from his Heart Disease. Your generosity makes it possible for us to give him and all the others the best Medical Care. Thanks for giving him this chance to Heal and find Love. We greatly appreciate your Support.
Learn about our other amazing animals