Roulette (CVRC Pitty)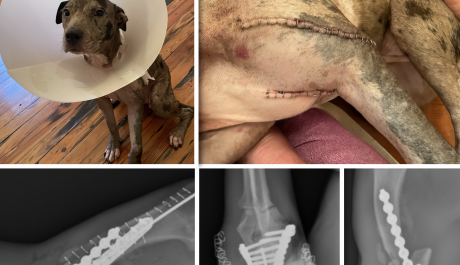 Every once in a while, surgeries do not work out for one reason or another. No matter how many breaks we fix, the unknowns are too great to calculate.Sadly, Roulette's surgery did my take, and her leg collapsed in the same area. Our sweet pup returned to the hospital, and I had more decisions to make this time. Should I give the surgeons another shot at re-plating the leg, or should I amputate it? You would think there would be an easy answer, but there never is.
After a lengthy discussion with CVRC and the surgeon taking over Roulette's procedure, I decided to re-plate the leg. The only difference is that Dr. Patti Sura would use two plates instead of one. One of the top and another to support from the bottom. My worst nightmare is doing surgery on a dog and removing the leg with the attached plate. That is money down the drain and more surgery on top of it. The good news is that it has only happened four times in 20 years.
Sweet Roulette did not complain once when her leg collapsed. She started to limp and went on about being her usual adorable self. Dogs are amazing at how resilient they are. Life goes on, and they never miss a beat. It is as if they are trained from birth to compensate for abuse and neglect.
Dr. Sura did a fabulous job repairing Roulette's leg. Plates, pins, and lots of bone graft material should give us better odds of success this time. Rou will have to remain quiet while she is healing. Sadly, this young puppy is ready to run around and play, which is not allowed until the bone has healed. Quiet Time is a small price to pay for keeping your leg.
One orthopedic surgery is bad enough. Two surgeries requiring three orthopedic plates is over the top expensive. We now have the challenge of raising funds for the remaining balance of her first and second surgeries. Please, DONATE whatever you can so Rou does not lose the leg we are working so hard to save. Your support is greatly appreciated.
Learn about our other amazing animals