RUBY (Chihuahua)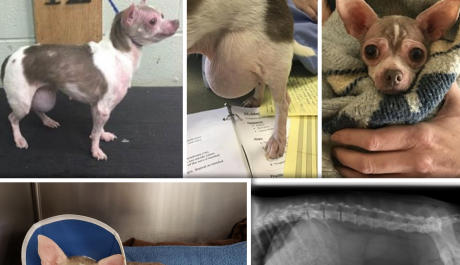 DALLAS, NC.....Sweet RUBY is a three-year-old Chihuahua that has had a terrible start in Life. She was picked up as a stray with a terrible case of Demodex and flea allergies. On top of that, she has a huge Inguinal Hernia and luxating Patellas.
We are so full right now that I have to hire two new people to take care of all the Medical Abuse Cases we have. Poor Ruby is just one of many tortured pups that we get e-mails or calls on Daily. I would have thought by now Abuse cases would be going down because of laws and public awareness, but it appears to be going up.
Ruby is one of the saddest pups we have seen in a long time. She is a tiny 5-pound bundle of nerves that is scared of everyone. The Shelter had her for several weeks treating the Demodex, but no one had stepped up to save her. Ruby's personality and the fact she needed surgery made her unadoptable. This neglected, unloved pup was going to be put down and not even given a chance.
I decided to give her the only chance she would ever have and had her taken to Carolina Vet. Specialists in Charlotte, NC where her surgeon, Dr. Dan Mentens was waiting for her. Tiny Ruby was a smelly, crusty, infected mess. Her body hurts from one end to another. I do not blame Ruby for being cautious of people. It was selfish Humans that did this to her.
It appears Ruby's massive hernia came from someone kicking this poor pup. Chihuahua's are little bundles of joy that are always running around looking for someone to play with or to hold them. If their energy level is too much for you, then find them a home but DO NOT take out your anger and hate on these tiny creatures. We see this injury all the time and most of the time is it is from blunt force trauma from being kicked.
Ruby has months of Medical Treatments because of her terrible skin. The Hernia surgery should take her about three weeks to recover. Healing a Broken Heart is going to take a Lifetime. Please, Help us with this special pup that was abandoned and discarded after being brutally kicked by DONATING.
Learn about our other amazing animals