STITCH (Mini Pitbull / English Bulldog)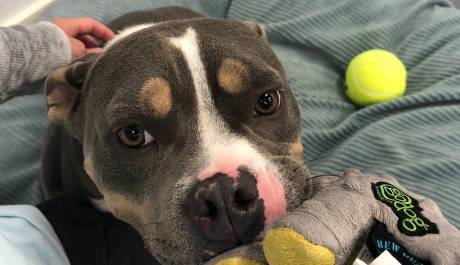 Adorable STITCH has completely healed from his surgery and is ready and waiting for his new home. We have decided the one leg that we did surgery on was the worst one and decided the other three legs would not benefit from the same procedure. As you can see from the videos, Stitch has no problem running around playing with the other pups or chasing a ball or frisbee. He will take long walks and is happy to be outside with his person.
Stitch is young and has lots of great energy. We believe his leg bowing is from breeding to make dogs shorter and stockier. Nothing holds back this adorable pup. He loves run ning around outside or inside in the training room. Give him a toy or a ball and he will entertain himself for hours on end. When he gets tired, he will run over to one of the beds and take a flying leap and land right in the middle. If you are sitting on the bed at the time, he will land in your lap with the biggest smile on his face.
It is hard not to smile every time we look at Stitch since he has a permanent smile on his face with a little bit on his tongue always hanging out. Stitch is very shy when he first meets you but will soon warm up. I am sure he has plenty of reasons to be cautious of people. The good news is that once he realizes you are not going to hurt him, he warms up and will crawl into your lap. In no way is Stitch aggressive. He is shy and reserved until he feels comfortable.
Stitch has way too much energy for small children. He would be great around teenagers that love to wrestle and play non-stop. Let's see if we can get Stitch into a wonderful home for the Holidays. He will reward you with unconditional Love and put a smile on your face 24 hours a day.
If you think Stitch would be right for your Family, fill out our Adoption Application online to be considered for this special pup. His little stocky body shakes all over from him wagging his tail. Once you win his heart, he will be yours forever.
Learn about our other amazing animals