SUSAN (Weimaraner)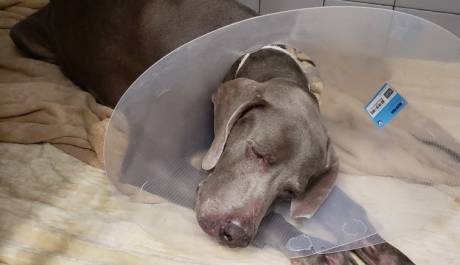 Sweet Susan has stolen everyone's heart by the fact she was discarded without a second thought for her safety. I say this a lot, but people should at the very least attach a note to the dog giving as much information as possible to get them the best care. It doesn't have to be incriminating, but it shows that you at least have a heart and once cared for this beautiful animal.
Susan did great during her procedure and came out of sedation without any further issues. Doing a Cat Scan prior to a procedure such as this is invaluable. The high cost is worth the information that is gathered before going in blind. The Cat Scan told the surgeons, Susan had a large Lipoma and several smaller ones that had joined together instead of a tumor. It also showed us the largest one had infiltrated muscle and tissue below the lipoma that was going to make the surgery more complicated and there was going to be more bleeding.
Dr. Jennifer Au is a Master at Surgery such as this. She took her time with David her Surgical Assistant to keep Susan comfortable at all times and to make sure they got as much of the lipomas out as was possible in one piece with doing the least amount of damage. Susan may need a chest tuck from the extra skin, but we believe she is going to be just fine. The area that had infiltrated adjacent tissue was sent off for a biopsy to make sure we are not dealing with something else in that small area.
Susan is still a little groggy this morning but will be up and about the hospital by the end of the day. She will also have tight bandages on to keep the area from filling with fluid. We are still way below what we need to cover these procedures. Please, Donate and if you have already Donated, then send to your Friends and Family so they can Give the Gift of Life to Susan. Thanks for caring about Susan and all our Abused Pups at Noah's Arks Rescue.
Learn about our other amazing animals