WILLOW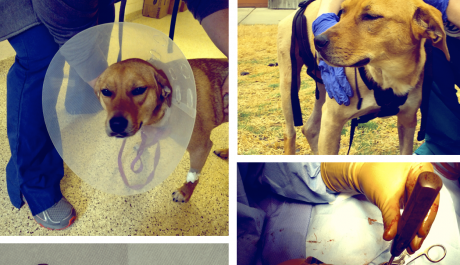 Adorable Willow started to have complications at one of her surgical sites and had to be taken to Carolina Veterinary Specialists in Matthews, NC. They went ahead and did 8-week post-op radiographs of her radial fracture repair, left femoral fracture repairs, left ilial fracture repair, right FHO site and evaluation of her conservatively treated left acetabular fracture. It is amazing this beautiful pup endured so many procedures in such a short period. We knew some of the repairs were going to have complications because she had so much done. Some of the places that were repaired were very fragile and unstable at the time. Recently she had developed a draining tract near her left ilial fracture repair that was causing her discomfort.
Radiographs were done on all fractures. All repaired fractures appear to have bony healing, and the implants are static and stable in the radius, the left femur, and the FHO site. The proximal portion of the left ilial plate had pulled out from the bone. Given the multiple fractures all the way up the weight bearing axis of the left pelvic limb AND given the softness of the bone at the proximal ilial wing, we are not shocked this had occurred. I am sure there were a lot of varying forces transmitted across this site while she has been healing. The ilial bone fracture site appears healed underneath which is great. The little skin defect noted on the left side of the hip area corresponds to the loose screws at the proximal ilial plate and the draining tract.
After a thorough consultation with her Surgeons, we decided the plate needed to be surgically removed, a culture taken and the area flushed thoroughly to rid the area of any infection. We will now have to wait to see how stable the area remains after removing the plate. Adorable Willow is back on controlled walks to make sure the area heals properly. This is the leg we originally thought we were going to have to amputate. Willow is such a young pup we wanted to give her the best chance possible of keeping the leg. Fingers crossed for this adorable Angel that her leg continues to heal.
I am amazed this adorable puppy has remained so sweet and loving through this horrible ordeal. One of these procedures is painful, but four is downright intolerable to even think about. Willow has not complained once through all of this. She has remained lovable and sweet through it all. We have a great Family that wants to adopt dear Willow once she has healed from all of her surgeries. Fingers crossed this will be her final surgical procedure. Willow's bills were beyond anything you could have ever imagined. Her bills are equal to four dogs walking in the hospital and going into four different Surgical Rooms and having surgery. Each procedure was long and complicated. PLEASE, Help Us pay off these bills and cover her new procedure. We can't keep doing this as long as the bills keep piling up. We have several more new Abuse Cases that need to come in or they will be put to sleep. Help Us, Help them by DONATING.
Learn about our other amazing animals