BIMKA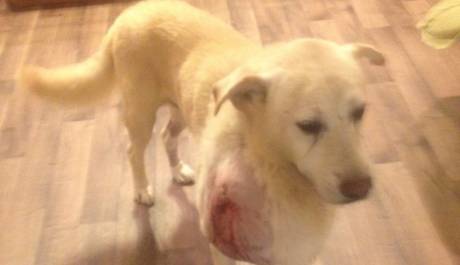 We have finally gotten all of the results back from Bimka's biopsy and bloodwork. We also did another scan to find any tumors he has in his body. Unfortunately, the only good news I have is that this incredibly sweet boy is in our arms being loved and cared for. Bimka has two very lethal forms of cancer. We were so hopeful when we saw only a few tiny tumors in his lungs but decided we had better look further to make sure there was nothing else happening. Unfortunately, this amazing dog also has stomach cancer, and his stomach is loaded with cancer along with his kidneys. The amazing part is that his kidney values are not bad at all. When we took a look at his kidneys, they are almost destroyed by the cancer. Sweet Bimka is not a candidate for us to remove his massive tumor. Removing the tumor would cause him pain and suffering, and we are not going to do anything that will take away from his quality of Life. We only do surgery if we feel the outcome will enhance their quality of Life, not take away from it. He is also not a candidate for Chemo or Radiation. What we are doing is treating Bimka to keep him comfortable and to get rid of any infection he has in his system. The bleeding you see in the photo is drainage from doing the biopsy. That should stop in a couple of days.
After spending time with Bimka, I decided what this wonderful dog needed most was to be out of the hospital and into a Hospice home that we have set up for him. Bimka loves the freedom of being around other animals and being able to go outside. He also loves being part of a Family and laying around watching TV with everyone else. He has a full-time nurse to make sure he is not suffering and that he is comfortable and happy. Getting him out fo the hospital seems to have given him A new lease on Life. He is HAPPY and has a little giddy-up in his step now. His tumor slows him down but does not hold him back. He loves the freedom of slowly walking around outside in the yard.
We can't save his body from the ravaging cancer, but we can restore his Soul allowing him to be a dog surrounded by people that love and adore him. The greatest Gift of all is he is safe and loved and will not suffer. Bimka will let us know when he is ready to cross over the Rainbow Bridge. Until then, he is very happy being pampered and showered with hugs and kisses.
Thanks for caring and being part of his Journey to find Peace and Love after his original Owners had discarded him. Our boy is finally Home.
Learn about our other amazing animals