CAMILLA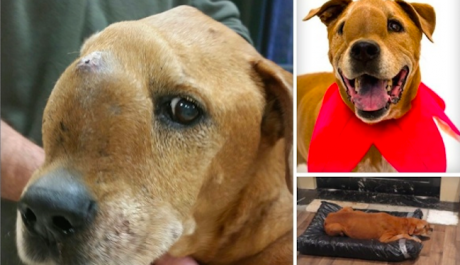 It is with great sadness that we have to let everyone know that sweet Camilla has crossed over the Rainbow Bridge. I was going to send this around on Sunday but just couldn't wrap my mind around losing this wonderful girl.
I so wish we had more time to love on her and show her how Special she was. She came to us with three lethal cancers and a heart of gold. The first week we had her, we soon realized she would have to go into our Hospice Program. Our only concern now was her Quality of Life and to ease her pain and suffering. Camilla's large tumor began to grow and caused her to be uncomfortable. We did a few rounds of palliative radiation to settle the tumor down and to keep her comfortable. The radiation put her facial tumor on hold, but her other tumors kept growing. The problem with so many different cancers is that they get all the nutrients from her food supply to thrive. Camilla's Hospice Family fed her anything she wanted. Her morning ritual was a breakfast fit for the Queen. She had steaks, pork chops, bacon and roasted chicken whenever she was hungry all made just for her. Meals became the highlight of her day. Unfortunately, that was not enough to keep up with the growing tumors. Camilla became thinner and thinner and had very little energy. What she did have was her winning Spirit for giving lots of kisses.
On Wednesday, our sweet girl began to bleed from her mouth profusely. She was taken immediately to the vet to see what was causing the bleeding. We thought her tumor had opened up from inside her mouth. As it turned out, she had small little lesions in her mouth from normal chewing. The cancers had caused her to stop clotting. We got her comfortable and let her spend her final time with her Hospice Family and Bimka. On Thanksgiving Day, we said goodbye to sweet Camilla. She was surrounded by people that loved and adored her and was so peaceful when she passed. She was ready to go, and we honored her by not allowing her to suffer.
Each animal we take in gives us far more than we could ever give to them. We learn more about unconditional love and compassion with that one animal than all our Life Lessons put together. Each animal has learned so much from the hardships they have had to endure. By the time we wrap our arms around them for the first time; they melt in our arms with the purest love you will ever experience. We learn how to love unconditionally from them. They are the Heroes in our Lives.
When you look at the Heaven's tonight, look for the brightest star and say a prayer for sweet Camilla. Any donations that come in will pay for her final bills while in ICU.
Learn about our other amazing animals