COBY (Lab Mix)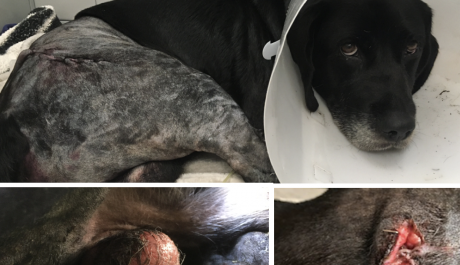 Poor Coby has had a hard time of it. He stayed in the hospital for almost a week and then came to us once his pain level was under control. Unfortunately, that was short-lived because his incision on both sides began to open and drain continuously. We took him back twice to the ER to have the areas cleaned and new staples put in. Throughout this, Coby was getting more uncomfortable, and we also noticed his scrotum had become enlarged. It was similar to him having an allergic reaction to something.
We decided he had too many plates in his body for us not to admit him to the ER. Something was wrong based on our observation. We can do a lot at Noah's Arks Rescue, but nothing we did made him better. Coby was admitted and seen by his surgeon. He agreed he had an infection, and a culture had to be taken. He also thought Coby was having an allergic reaction to the surgical cleanser they used prior to surgery. Whatever was going on, he needed to be in the hospital, and they had to go back in and see what was causing all the draining.
Whatever is happening is not the norm for any of our pups. We do lots of complicated surgeries with lots of plates. Once in a Blue Moon, the dog will react to the apparatus put in. Our hope is the plates will not have to be removed. The area will have to be cleaned, drained, and the proper antibiotic administered. During this time, they will neuter Coby to get rid of the scrotum that is reacting so violently to something.
It seems like one minute we are taking ten steps forward with this sweet pup, only to be knocked back twelve. Coby is in surgery now. Please, keep him in your prayers and Donate so we can stay on top of his care. We had not even come close to paying for his first surgeries when this hit us. Donations are critical for this fabulous pup.
Learn about our other amazing animals