COBY (Lab Mix)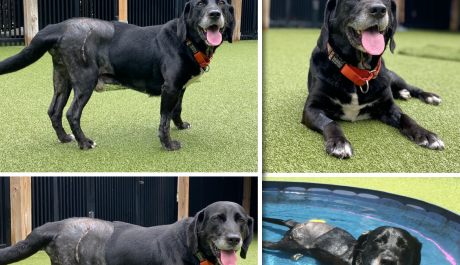 I am happy to report that dear Coby is making progress with his Rehab. Having so many surgeries on the same leg and hip set him back a lot. Every movement he makes is connected to an area that was broken and repaired. His pain level has been reduced to where he only needs a small amount of pain medication to keep him comfortable. Most of our dogs are off their pain meds within the first five days. Coby has been on his pain meds for almost two weeks, which is a lot. He does not get a lot but just enough so he can function and move.
We think his right rear leg is still a little wonky, but his surgeons believe he is doing remarkably well given all that was done during his procedures. If Coby walks fast, he will raise his leg and not use it. We have to slow him down to force him to put his leg down and walk. It is not something he likes to do because any pain makes him want to pick the leg up. Any movement of the leg is good for the muscles, even if he is lifting it.
He gets lots of passive range of motion to keep his leg from atrophying while it is healing. Coby is such a sweet dog that he allows us to do whatever we need to keep his rehab going. The only time he gets upset is if we do not have his pain meds appropriately dosed. One growl from him, and we correct that immediately.
Coby is the perfect dog. He loves being around people and is so upset when we have to leave him at night. All Coby wants to do is sleep at your feet and be next to you all the time. He is a big snuggle bug that loves everyone. He is fine with other dogs but is very protective of his hip and leg, so we keep him separate until his leg has healed.
Coby will have to remain with us until his hip has healed, which will be another four weeks. If you think this special older dog would be right for your Family, please fill out our application for adoption. If you live in the area, you would be allowed to visit him as often as you wanted during his rehab. Coby is the perfect Family dog in every way.
Thanks for helping us with dear Coby. We are doing everything we can to give him the best chance to survive his injuries with all four legs intact. Thanks for caring and being the Good in the World that loves our dogs as much as we do.
Warm hugs and much love from everyone at Noah's Arks Rescue.
Learn about our other amazing animals