DUSTY (Maltipoo)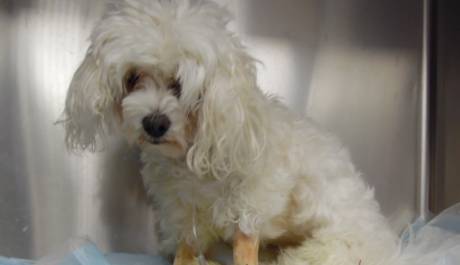 UPDATE.....I just spoke to Beaufort County and they have done a wellness check at the home of the people that had Dusty. They do not have any dogs left in their home. They are investigating further to see what they can do to charge the Family for Neglect in not getting Medical Care for an injured animal. Dusty's case is under investigation.
Dusty's bilirubin levels have come down but they are still elevated, and he has to remain in ICU. We have him on a lot of meds and fluids to protect his pancreas. This beautiful tiny pup has had one of the most horrific lives. His Owners clearly do not like animals and should not be allowed to have any. We have done all we can to get someone with Animal Control.
The reason why Dusty's feet are yellow is that his urine is bright yellow and he was laying in his urine from being too weak and sick before coming to us. His skin is also yellow from his bilirubin level being so high. Dusty is one dog we were not feeling good about but wanted to do all we could to save him. The good news is he has responded well to all of the treatments and the Critical Care Specialists overseeing his care have been amazing.
All it will take for Dusty to go backward is if he does not get enough fluids to keep him well hydrated. The concentrated urine and blood levels would automatically cause him to have a severe case of pancreatitis. He has to stay in ICU until his body stabilizes and his feeding tube can be removed. The good news is that he is getting his appetite back and eating small amounts of food but not enough to sustain himself.
Dusty is one of the sweetest, tiniest little Angels. How anyone could ever allow something as cruel as this to happen is beyond me. I like to think that Beaufort County does a lot to protect our animals in South Carolina, but this case is falling on deaf ears. I have done everything possible to get them to do something, and nothing is happening. It appears that two animals coming in neglected and abused from the same Family does not send up a Red Flag with them.
My heart breaks for all the abused, neglected animals that our Society is turning their backs on. I hear the same story every day. People do not want to get involved; they don't want their name mentioned. The excuses are endless, and I am fed up with this lack of caring. What happened to protecting the innocent and weak from the bullies and sick people that DO NOT value a Life.
Dusty is alive because we stepped up for him and YOU helped us do it. I know I get very bold when it comes to saving an innocent creature but it is because I always know the Noah's Arks Rescue Family feels the same way. It takes a Village to save these innocent Angels, and you are our NAR Village. No one could be more proud of what we accomplish together than I am. We are blessed beyond measure because of your Love and Kindness.
Learn about our other amazing animals