GEMIMA ROSE (GEMMI)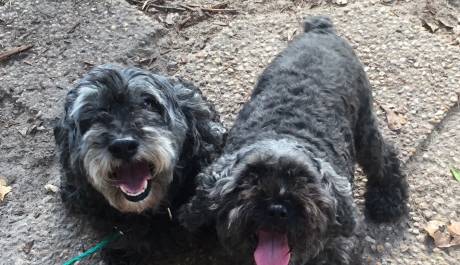 These two adorable pups may be older, but they sure are sweet and adorable. It breaks my heart they had to suffer as long as they did in a garage with a fan in a kennel. Each pup had medical issues that caused them unbelievable pain and suffering. We are still working on clearing up Shadow's ear infections so we can do her surgery. She should be ready for surgery in about a week.
We did get Gemmi's Biopsy report back and unfortunately she does have Cancer. Her Tumor was such a mess that we need to do more tests to determine exactly which cancer she has. She has an appointment this week with Dr. Kerry Rissetto the Oncologist we use all the time at CVRC. Dr. Rissetto will come up with a plan to give her the best possible outcome. We did surgery to remove the tumor but unfortunately because the tumor had gone so long without medical care, we did not get good margins, and some of the cancer remains. Dr. Rissetto will steer us in the direction that will not take away from Gemmi's quality of Life. This week we will determine the best Chemotherapy Treatment for this adorable pup.
Gemmi and Shadow are wonderful Cocker Spaniels. The love each other and love being around people. I hate knowing they were not given the Love and Affection they needed and wanted more than anything in the World.
I am so surprised we have not gotten ANY applications for this adorable pair. You don't get any cuter than they are. Once we get their medical taken care of they will be ready for their new home. Please, consider opening your Heart and Home to this wonderful pair. Both pups are still getting lots of Medical Care, which we are picking up. Don't let that stop you from Adopting them. They still have a lot of pep in their step and are delightful to be around.
We are still taking Donations for both pups. I have put Gemmi's link here since her bills will be the most with her Cancer Treatment. Thanks for caring and making their Journey to Heal and find Love, possible. We greatly appreciate your Love and Support.
Learn about our other amazing animals